Quiet and High Speed 3D Printer - FabPod™ Silent Japan's Bonsailab exhibits at CES2017
LAS VEGAS--(BUSINESS WIRE)--Bonsailab Inc., drew crowds' attention in the "startup" exhibition area at last year's CES. This year, the company exhibits at the mainstream "3D Printing Zone", the first Japanese manufacturer ever exhibited there, featuring "Made in Japan".

The company's newest FabPod™ employs top-notch industry quality parts from Japanese manufacturers. The new product targets growing STEM education market. Two key product concepts are 1) Finish printing during class sessions, and 2) Error free 3D printing.
To increase printer speed, printer head weight is reduced and material cooling is improved. In addition to the standard nozzle diameter of 0.4mm, 0.6mm and 0.8mm nozzles can provide stable output also head removable. Quietness was made possible by a cooperation of stepping motor supplier Minebea. We benchmark the level of quietness with consumer electronics.
Bonsailab's BS01+ has the largest market share in Japan. BS01+'s users co-created "Happy Cat" object especially for the CES2017. All pieces were produced by users' printers. When assembled, the Happy Cat became 80cm height, and 15km in weight. This is a great example of co-creation concept; with a 3D printer, everyone around the world can participate in co-creation. Bonsailab, together with its collaborators from Japan, wants to show to the world, that we can co-create an exciting, large size project using desktop 3D printers.
Happy Cat (Maneki-neko) consists of 200 pieces, 500 pieces if including fastener pins. It is a symbol of inviting good luck of the New Year.
Bonsailab is announcing new FabPod™Silent at CES2017. The new product will further improve in quietness and speed and will ship to North America, Asia and Europe.
Featured Product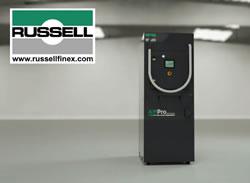 The Russell AMPro Sieve Station™ guarantees the quality of your additive manufacturing (AM) powder, and has been designed to provide optimum sieving efficiency, ensuring your powder is ready for use or reuse as and when you require it. With a simple one-button operation and mobile design, this automated check screener ensures your powder at every stage of the process is qualified for use quickly and safely. The flexibility of the Russell AMPro Sieve Station™ means you can use the system for numerous powder handling tasks - being a modular design ensures the machine can be configured to meet your exact requirements.