At an entry price of $3,500, the Onyx One is uniquely designed to print end-use carbon parts with Markforged's acclaimed Onyx material.
Since the inception of 3D printing 30 years ago, buyers have had a choice of printers for either industrial functional parts with inferior surface finish or printers for detailed, yet fragile models. Markforged disrupted the status quo of 3D printing to deliver strong end-use parts which also feature a sleek beautiful look and surface finish with its Onyx material.

Markforged introduced its Mark Two and Mark X industrial printers to deliver exceptionally strong 3D printed composite parts using a unique, patented dual-head printer that delivers continuous fiber reinforcement within tough plastic.
With todays announcement, the Onyx One is available in North America (followed by the rest of world in Q1 of 2017) as Markforgeds first plastic-only printer. It enables users to take advantage of the popular Onyx material at a broadly accessible price. Markforged introduced Onyx filament earlier this year which rapidly became its best-selling material. Made of chopped carbon fiber within nylon for twice the strength and stiffness of pure plastic, parts printed in Onyx have an elegant carbon black finish directly off the printer. The material is designed for end-use applications as well as prototyping with a finished look requiring no post-processing.
The Onyx Series of printers are designed from the ground up with the same industrial quality and integrated software as all Markforged printers.
"Our belief is that every designer and engineer should have broad access to strong, elegant parts from a reliable printer they love to use." says Greg Mark, CEO of Markforged. "With the Onyx One, we provide our customers with superior parts in a seamless integrated system of hardware, material and software to deliver a quality experience at an accessible price point."
Buyers seeking much stronger parts can step up to the new Onyx Pro, which features a second print head and continuous fiberglass reinforcement. At a $7,000 price point ($8,000 in Europe) the Onyx Pro prints composites reinforced with continuous fiberglass for 5 times the strength of Onyx alone. The Mark Two, at a price point of $13,500, delivers metal-strength composites with continuous carbon fiber for 10 times the strength of plastics.
Printers Designed with Easy Upgrade Paths
"Buyers of the Onyx One can upgrade their printer in the field to an Onyx Pro when theyre ready for the extra advanced fiberglass composite parts," says Mark. "We purposefully designed the entry point Onyx One with an easy path to higher strength for our customers without requiring them to purchase a different printer. Or, they can trade up to the Mark Two for continuous carbon fiber reinforcement, for amazingly strong parts in addition to the impact-resistant Kevlar and high-strength, high temperature fiberglass."
Markforged printers combine hardware, materials and software with cloud enablement allowing frequent updates and improvements for all Markforged owners - also unique in 3D printing. With the Onyx Series launch, there will be a Turbo Print speed option available to all Markforged owners to significantly reduce print time for select parts.
The flagship Mark X industrial-scale printer at a price of $69,000 launched October of 2016 features in-process part inspection using a laser micrometer, a larger build size and other precision capabilities rounds out the Markforged portfolio.
Markforged printers continue to be sold through its expanding global network of value-added resellers who provide beneficial local support in over 50 countries.
About Markforged
As one of the most well respected and innovative 3D printing companies in the market today, Markforgeds mission is to bring high strength 3D printing to every production shop and desktop. Offering the worlds only 3D printing systems capable of automatically reinforcing engineering plastics to aluminum levels of performance and beyond, Markforged enables every business to easily manufacture parts with structural strength right on the desktop. Markforged Industrial Strength 3D Printers empower professional users to affordably create workhorse 3D parts that solve real problems, as well as realize reinforced structures never before possible. Markforged technologies are delivered with thoughtful, powerful software designed for collaboration, sharing, and scaling. For more information, visit http://www.Markforged.com.
Featured Product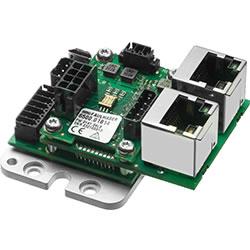 MOTION CONTROLLERS FOR MINIATURE DRIVES AND MICRODRIVES. FAULHABER has added another extremely compact Motion Controller without housing to its product range. The new Motion Controller is ideal for integration in equipment manufacturing and medical technology applications. With 36 V and 3 A (peak current 9 A), it covers the power range up to approx. 100 W and is suitable for DC-motors with encoder, brushless drives or linear motors.