The Build Processor will offer users of AddUps metal 3D printing machines more control over their 3D print jobs.
FRANKFURT, Germany--(BUSINESS WIRE)--Materialise NV (NASDAQ:MTLS), the leading provider of Additive Manufacturing software and sophisticated 3D printing solutions in the medical and industrial markets, and AddUp, a global offer in metal 3D Printing by Fives Michelin Additive Solutions, have announced the development of a Build Processor that will run in the background of the AddUp Manager software solution. The Build Processor will offer users of AddUps metal 3D printing machines more control over their 3D print jobs.

"There is a need in the Additive Manufacturing ecosystem for process control and quality standards. Without solid partnerships between several players in the industry, 3D printing technology will not reach its full potential. It is because of this that we are proud to announce our partnership with AddUp by Fives Michelin Additive Solutions, who are tapping into Materialises backbone of software solutions to give their users more control over the metal print process," states Stefaan Motte, Vice President of Software at Materialise.
With AddUp ManagerTM powered by components of Materialises powerful Build Processor software, users will now have access to state-of-the-art slicing and scan path generation algorithms. The software will be running on AddUps FormUp 350 machine, showcased at formnext.
"As AddUp itself is a joint venture between industry leaders, Fives and Michelin, we appreciate that it is through the right partnerships that innovation can be accelerated and added-value created. Materialise was able to take into account our specific requests. This will enable us to complement our own industrial production expertise with their market-leading software solution in order to offer our users best-in-class control over their prints," explains Charles Fischer, Sales & Marketing Manager at AddUp.
Visit booth F28 in Hall 3.1 at formnext to discover more about Materialises software offer for machine manufacturers.
Visit booth J70 in Hall 3.1 at formnext to discover more about AddUp Solutions.
More information
For more information on the Materialise Magics 3D Print Suite, please visit:
http://software.materialise.com/3d-printing-software
For more information on AddUp solutions, please visit:
www.addupsolutions.com
About AddUp
AddUp was born after the decision of the two industrial groups, Fives and Michelin, to create Fives Michelin Additive Solutions. The joint-venture aims to develop and market machines and production lines for metal additive manufacturing, using the technology of "powder bed," known as Metal 3D printing.
Fives brings its expertise and experience in mechanical engineering, automation and industrial process control, to manufacture fully digitized machines and systems that meet the technical requirements of additive manufacturing. And also the constraints of reliability and reproducibility of a controlled industrial production.
Michelin has developed for over a decade, a unique expertise and technology in additive manufacturing, to produce on an industrial scale, parts of molds unachievable with traditional means of production (machining, welding, ...). This technology allows Michelin to develop and market today a new generation of tires with unrivaled performance.
About Materialise
Materialise incorporates more than 25 years of 3D printing experience into a range of software solutions and 3D printing services, which together form the backbone of the 3D printing industry. Materialises open and flexible solutions enable players in a wide variety of industries, including healthcare, automotive, aerospace, art and design, and consumer goods, to build innovative 3D printing applications that aim to make the world a better and healthier place. Headquartered in Belgium, with branches worldwide, Materialise combines the largest group of software developers in the industry with one of the largest 3D printing facilities in the world. For additional information, please visit: www.materialise.com.
About Materialises Software Division
Materialise Software provides companies with a platform of software tools that manage and control the 3D printing process more efficiently, allowing them to meet the highest standards of the most demanding industries. Materialise Softwares suite of solutions, Materialise Magics, includes industry-leading data preparation and design optimization tools, programs to integrate 3D printing into production environments, and software and control systems used by machine manufacturers to better bridge the gap between applications and 3D printers. These solutions are open by nature, empowering co-creation and collaboration between different players in the 3D printing and manufacturing eco-system and providing the industry a solid foundation on which to expand and grow. For additional information, please visit: http://software.materialise.com/
Featured Product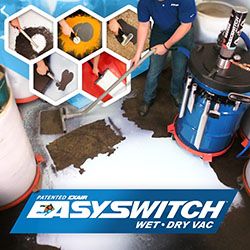 VariBlast Precision Safety Air Guns are small and lightweight air guns capable of handling tough jobs. Designed with a variable flow trigger they are able to produce different force values from the same nozzle simply by pulling the trigger. EXAIR is offering a special right now on all of their Safety Air Guns. Learn more at https://exair.co/184-saqgpromo https://exair.co/184_511