Rennco created a more flexible and technically advanced platform upon which to build a whole new generation of vertical bagging machines. (Rennco Pack Expo Booth # S-3836)
Rennco, powered by Pro Mach, introduces at Pack Expo 2016, November 6-9 in Chicago, a new platform for the companys extensive line of vertical bagging machines. The NextGen Series represents design breakthroughs for every major functional system on Rennco vertical bagging machines. A new machine built on the NextGen platform will demonstrate at Pack Expo counting and bagging cups at a rate of up to 60 bags per minute. (Rennco Pack Expo Booth # S-3836)

Machine Upgrades
At 60 bags per minute, NextGen series-based machines are 33 percent faster than last generation offerings. The company also moved beyond intermittent motion to a continuous motion servo and upgraded its PLC platform to achieve speed increases.
"After extensive customer research, weve identified that customers care about sealing quality and fast changeover," says Jim Zurawski, General Manager at Rennco. To address this, the Rennco design team simplified the sealing bar design, lowered the number of parts, and reduced required adjustments in a complete revamp, which achieved a significant increase in changeover speed and sealing quality. The NextGen series sealing system will not only be offered on new machines, but also as a retrofit for existing machines. The new sealing system will have a standalone display at Pack Expo to showcase its advanced capabilities.
A larger and easier to use HMI will be packed with operational and maintenance information. The HMI identifies the exact machine settings for key mechanical adjustments and operators simply dial in those settings. NextGen series changeovers are accomplished in less than five minutes.
The rugged frame has been lowered, compared to previous models, to make the new series machines easier to operate and maintain. Drive mechanisms have been located toward the back of the machine for better access to film and the product zone. Loading the film closer to floor level minimizes lifting. The new servo trim windup system has been updated for greater reliability and control through the HMI.
NextGen series machines are manufactured in the US. Replacement parts are readily available, and technical support is a phone call away.
Visit the Rennco Booth # S-3836 to see the NextGen series platform in operation and to evaluate the NextGen sealing system for retrofit on existing Rennco machines. For more information, call 800-409-5225 and visit http://www.rennco.com.
About Rennco
Rennco, powered by Pro Mach, manufactures vertical packaging L-sealing equipment and automated packaging systems. For more than 40 years, companies have depended on Rennco solutions to package a wide variety of products in polyethylene, polyolefin, and PVC bags. Rennco is a market leader in delivering innovative, reliable, cost-effective solutions for fully automated, semi-automatic, and hand-loaded bagging operations. All Rennco products are designed and manufactured in Homer, Michigan. For more information about Rennco, visit http://www.Rennco.com.
About Pro Mach
Pro Mach is a leading provider of integrated packaging and processing products and solutions for food, beverage, consumer goods, pharmaceutical, and other diverse companies. Through multiple brands, Pro Mach provides product packaging and processing equipment, PMMI certified trainers, installation, parts, and service in Bottling & Capping, Primary Packaging, Pharmaceutical Packaging, Flexible Packaging, Material Handling, Labeling & Coding, and End of Line, as well as Integrated Solutions for complete packaging lines.
Pro Mach has a diverse customer base, from Fortune 500 companies to smaller, privately held businesses worldwide, which depend on reliable, flexible, technologically advanced equipment and integrated solutions. Pro Mach is headquartered near Cincinnati, Ohio, with manufacturing facilities and offices throughout the United States, Canada, Mexico, Europe, United Arab Emirates, and China. For more information about Pro Mach, please visit http://www.ProMachInc.com.
Featured Product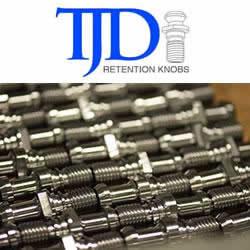 Our retention knobs are manufactured above international standards or to machine builder specifications. Retention knobs are manufactured utilizing AMS-6274/AISI-8620 alloy steel drawn in the United States. Threads are single-pointed on our lathes while manufacturing all other retention knob features to ensure high concentricity. Our process ensures that our threads are balanced (lead in/lead out at 180 degrees.) Each retention knob is carburized (hardened) to 58-62HRC, and case depth is .020-.030. Core hardness 40HRC. Each retention knob is coated utilizing a hot black oxide coating to military specifications. Our retention knobs are 100% covered in black oxide to prevent rust. All retention knob surfaces (not just mating surfaces) have a precision finish of 32 RMA micro or better: ISO grade 6N. Each retention knob is magnetic particle tested and tested at 2.5 times the pulling force of the drawbar. Certifications are maintained for each step in the manufacturing process for traceability.