Pack Expo attendees will see world-class machines for high speed filling of pre-made pouches, innovative forming and printing of rollstock pouches, stickpack forming and filling for single dose healthcare products, high speed forming and fast changeover of pillow bags for IQF packaging, and more. (Booth # S-3726)
The Pro Mach Flexible Packaging Group plans to demonstrate their range of machine systems and options at Pack Expo in Chicago, November 6-9, giving attendees the opportunity to experience at one single booth the latest style pouches, stickpacks, sachets, and pillow bags. (Pro Mach Flexible Packaging Group Booth # S-3726)

At this booth, customers can learn more about the high uptime, small footprint machines for producing and filling these flexible packages. This Pro Mach Flexible Packaging group is coming well-equipped to help customers with a variety of application needs. "We are displaying the most comprehensive collection of packages in the companys history and showcasing Pro Mach flexible packaging machines all in one location," said Troy Snader, Senior Vice President Flexible Packaging Group. "Every attendee coming to Pack Expo to explore flexible packaging will find this exhibit delivers most, if not all, of what they are looking for in terms of machine solutions."
The Flexible Packaging Group also features Pro Machs end to end - filler to palletizer - integration services. Pro Mach offers one point of contact and the convenience of a single purchase order for turnkey flexible packaging lines. Customers experience fast, trouble-free startup and best-in-class training, documentation, and operational safety.
Filling 80 pre-made pouches per minute
For the first time at Pack Expo, attendees will see the new twin filler Toyo Jidoki TT-8DW-N, which is rated at up to 80 pre-made pouches filled and sealed per minute. This small footprint Toyo Jidoki machine is coupled with a high accuracy Yamato weigher. "You really have to see this machine up close to appreciate the full impact of the precision and ruggedness offered by Toyo Jidokis design," says Snader.
Single serve pharmaceuticals in stickpacks demonstrated
Single dose stickpacks containing syrups and liquids used to relieve the symptoms of colds, fevers, coughs, flu, upset stomach, and other common ailments are one of the hottest trends in the over-the-counter market today. An Inever syrups and liquids stickpack machine with piston filler demonstrates the forming and filling of single dose packaging. Two other Inever machines will also be on display. One fills liquids, in this instance, dairy products. The second forms and fills either liquids or powders on low volume lines.
An ideal labeling for short runs of roll stock pouches
The FLtecnics FL 1.7 horizontal form fill seal pouch machine will be displayed with an EPI labeling system, powered by Pro Mach, for applications where the added capability of labeling gives the operation greater flexibility. The solution is ideal for packaging operations that would like the option of applying labels on short runs rather than having to frequently changeover large rolls of preprinted film. The FL 1.7 can also be ordered with the patented capability of inserting a corner or center spout from the same applicator. This feature gives customers greater versatility. The machine can also form zippered pouches.
High speed demo of pillow bags for individually quick frozen (IQF) applications
The Matrix Morpheus continuous motion vertical form fill seal machine demonstrates high speed and high quality forming of polyethylene pillow bags for IQF applications. The Morpheus can run at up to 120 bags per minute in this application. The company will also demonstrate AutoPro, the new servo motor controlled auto adjust feature that reduces changeover time by at least 50 percent. Similar systems to AutoPro are usually found on machines costing five times as much.
Utilizing an auger, the Matrix Apollo pillow bag machine displays high speed packaging of powders and particulates. The Matrix Triton bagger showcases the type of hygienic design and construction requirements needed by the poultry and dairy industries.
For more information on the Pro Mach Flexible Packaging Group, call 888-628-7491 and visit the Matrix website http://www.matrixpm.com, where the various brands offered by the group are displayed. And, be sure to visit Pro Machs Flexible Packing Group at Pack Expo, Booth # S-3726.
About Pro Mach
Pro Mach is a leading provider of integrated packaging and processing products and solutions for food, beverage, consumer goods, pharmaceutical, and other diverse companies. Through multiple brands, Pro Mach provides product packaging and processing equipment, PMMI certified trainers, installation, parts, and service in Bottling & Capping, Primary Packaging, Pharmaceutical Packaging, Flexible Packaging, Material Handling, Labeling & Coding, and End of Line, as well as Integrated Solutions for complete packaging lines.
Pro Mach has a diverse customer base, from Fortune 500 companies to smaller, privately held businesses worldwide, which depend on reliable, flexible, technologically advanced equipment and integrated solutions. Pro Mach is headquartered near Cincinnati, Ohio, with manufacturing facilities and offices throughout the United States, Canada, Mexico, Europe, United Arab Emirates, and China. For more information about Pro Mach, please visit http://www.ProMachInc.com.
Featured Product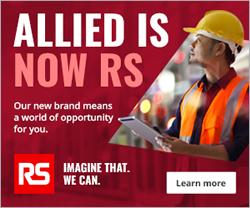 Imagine a global, end-to-end partner for industry - dedicated to solving your problems so you can drive your business forward. We can. On February 6, 2023, we officially changed our name to RS. It's just one way we're evolving to make our partnership and doing business with us even more rewarding. As RS, you have access to more support, more expertise, and more possibilities for your big and small projects - from concept and design to build and maintenance. Going forward, you'll see the RS logo on our website, social media, communications, and packaging. And rest assured, our current systems and procedures will remain intact to seamlessly process your order.