Reduced tooling availability affects automotive companies in exposing them to supply chain threats. How automotive companies are dealing with decreased availability in tooling production and how suppliers are preparing for tooling challenges ahead.
As auto sales grow, automotive OEMs must prepare for tooling challenges ahead. According to a report published by Harbour Results Inc., the automotive sector will require $15.2 billion in tooling production by 2018. Currently, the US auto industry has approximately $11.25 billion in tooling capacity. In order to meet future demands, the current capacity must increase by at least 35 percent.

What Automotive Companies Have Experienced as a Result of Tooling Shortage
The Congressional Research Service reports that 36 percent of tooling shops closed between 1998 and 2010. The auto industry has experienced increased shipping costs in outsourcing to countries like China to meet tooling needs. The supply chain risks from delays in shipping also drives up costs for automotive manufacturers. A tooling shortage results in higher costs and elevates risk of supply chain threats for the automotive industry.
Automotive Suppliers Are Bracing for Tomorrow's Tooling Challenges
Diminished tooling capacity is a concern for tooling shops. US automotive parts suppliers are gearing up for the shortage by preparing in multiple ways. Some tooling companies are partnering with local institutions and government entities to address this challenge. Other local firms are focusing on grooming internal talent to meet the need for skilled tooling professionals. Suppliers like Dixien, LLC are focused on developing the next generation of tooling talent. "We are prepared to answer the growing need for highly-skilled tooling professionals in the automotive industry," says Alex Garcia, VP of Sales & Marketing at Dixien, LLC, a global supplier of parts and components.
Veteran Toolmaker Discusses How Shop Training Shaped His Career
Former Dixien apprentice opens up about his apprenticeship experience at Dixien. Joe Hutson, 44, a toolmaker discusses how his apprenticeship helped launch his career. "My apprenticeship at Dixie helped form my ideas about machining that trade school couldn't teach. Working with different die makers helped me find out who I was going to be in the field." When asked if specializing in an area of study was sufficient in terms of preparing him for the workforce, he stated, "It's good to have shop experience to go with your shop theory."
Tooling demand will grow as auto sales increase. Automotive suppliers will adopt multiple strategies to meet the tooling needs of the industry, relying on collaborative partnerships, outsourcing, and internal training programs. Dixien will be prepared for the impending tooling shortage. Dixien manages the skills gap by nurturing talent internally by providing extensive training for tooling professionals. This is a win-win for customers as this guarantees the highest level of quality for its customer base.
About the Company
Dixien, LLC is an automotive supplier of plastic and metal components specializing in metal stamping, assembly welding, and injection molding.
Featured Product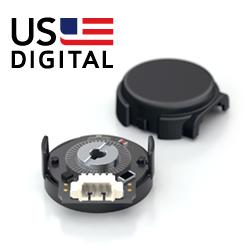 US Digital is pleased to announce the launch of the E4T, their latest series of miniature high performance optical encoders. The E4T series delivers a marked performance increase over similar encoder models and designed to be an enhanced replacement for the E4P encoder series. The E4T utilizes state of the art transmissive optical sensing technology, and incorporates US Digital's own proprietary OptoASIC. Assembly of the E4T is simple and efficient and retains the previous E4P's form factor. Key features of the new E4T include: • Mechanically and Electrically Interchangeable with E4P • Improved Quadrature Signal Strength • 100 kHz Frequency Response • Transmissive Optical Design • Collet Style Push on Optical Disk Design (Patent Pending) • Simple & Efficient Assembly Process As with all of our products the E4T is designed and manufactured in their Vancouver, Washington USA facility and is available for purchase as of December 2014.