Ossid debuts a rugged mid-range tray sealer loaded with features, showcases vacuum skin pack and modified atmosphere capabilities on its table top sealer, and demonstrates high speed top and bottom decorative labeling on a tray overwrapper. (Ossid Pack Expo Booth #S-3716)
Ossid, powered by Pro Mach, introduces at Pack Expo 2016, November 6 - 9 in Chicago, the OTS-32 tray sealer, a rugged mid-range machine designed for those growing markets that require a robust, affordable, and flexible solution for tray sealing. At the show, Ossid will also showcase the OTS-10VMAP table top tray sealer and the 500Si high speed stretch overwrapper. The tray sealer comes loaded with new vacuum skin pack and modified atmosphere packaging capabilities, and the companys premier stretch overwrapper will be demonstrating PVC stretch overwrap, along with application of decorative labels to tray tops and bottoms. (Ossid Pack Expo Booth #S-3716)

Featuring Three Exceptional Application Solutions
The flexible OTS-32 tray sealing machine for mid-range packaging line speeds can produce ambient, modified atmosphere, and vacuum skin pack packaging. It is printed film capable and features quick tooling changeover and rugged stainless steel construction. Like all Ossid machines, it offers exceptionally stable and trouble-free operation shift after shift.
The OTS-10VMAP table top tray sealer, which was introduced earlier this year, will demonstrate for the first time its vacuum skin pack/modified atmosphere packaging capabilities, which produce long shelf life for case ready pork, chicken, beef, vegetables, and other fresh foods. The OTS-10 family of machinery is designed to meet the production requirements of small to medium sized processors. The OTS-10 tray sealer is also ideal for larger processers involved in test marketing products and/or for laboratory production of sample packaging.
For the first time at Pack Expo, the Ossid 500Si high speed stretch overwrapper features seamless integration with top and bottom application of decorative labels. The 500Si produces tightly wrapped, PVC case ready packaging at speeds of up to 120 trays per minute. An intuitive HMI ensures ease of operation, and rapid, tool-free changeover between package sizes. The open stainless steel frame and other construction aspects are compatible with the harsh environments of poultry and meat packaging facilities. The 500Si has a relatively small footprint and is ideal for space-constrained environments.
Additional Show Demonstration
The Ossid Integrity form fill seal machine will demonstrate pharmaceutical packaging - syringe packs - as an integral part of the Pro Mach integrated pharmaceutical packaging line in the Brenton Engineering Booth # S-3738.
Be sure to visit the Ossid Booth # S-3716. For more information on the OTS-32, OTS-10, 500Si, and Integrity, call the Ossid sales department at 1-800-334-8369 and visit http://www.Ossid.com.
About Ossid
Ossid, powered by Pro Mach, is a leading North American designer and manufacturer of packaging equipment solutions for fresh and processed protein products, convenience foods, medical devices, and consumer goods. Ossids principal product lines are weigh-price labelers, case-ready tray overwrappers, horizontal form-fill-seal machines, and in-motion case-weight scales. http://www.Ossid.com
About Pro Mach
Pro Mach is a leading provider of integrated packaging and processing products and solutions for food, beverage, consumer goods, pharmaceutical, and other diverse companies. Through multiple brands, Pro Mach provides product packaging and processing equipment, PMMI certified trainers, installation, parts, and service in Bottling & Capping, Primary Packaging, Pharmaceutical Packaging, Flexible Packaging, Material Handling, Labeling & Coding, and End of Line, as well as Integrated Solutions for complete packaging lines.
Pro Mach has a diverse customer base, from Fortune 500 companies to smaller, privately held businesses worldwide, which depend on reliable, flexible, technologically advanced equipment and integrated solutions. Pro Mach is headquartered near Cincinnati, Ohio, with manufacturing facilities and offices throughout the United States, Canada, Mexico, Europe, United Arab Emirates, and China. For more information about Pro Mach, please visit http://www.ProMachInc.com.
Featured Product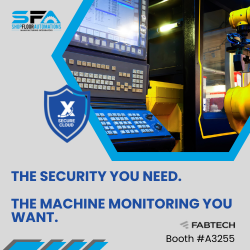 Disparate machines, each with a unique control system and communication protocol with varying ages, can create challenges for manufacturers driving continuous improvement initiatives. There is often limited visibility to make data-driven decisions that can impact every aspect of a manufacturing organization. The Scytec DataXchange machine monitoring solution resolves these issues by capturing real-time, Industrial Internet of Things (IIoT) data from a variety of equipment - from CNCs and PLCs, to robots and manual machinery - through universal machine connections. Leveraging automated data collection, DataXchange exposes and synthesizes equipment data to give your teams full transparency on the shop floor to transform your business into a smart factory.