Marlen International, Inc., a recognized global manufacturer of highly engineered food processing equipment and systems, plans to launch its next generation vacuum stuffer – the OptiServ 400 – at this years PACK EXPO International.
Marlen International, Inc. ["Marlen"] announces the North American launch of its next generation vacuum stuffing and pumping system - the OptiServ 400 - at this years PACK EXPO International being held November 6-9, at McCormick Place in Chicago, Illinois.

The OptiServ 400 is the first in Marlens series of twin-piston vacuum stuffing and pumping systems featuring pressure-sensitive servo drives. With up to 40,000 pounds per hour throughput at the industrys highest vacuum levels, the OptiServ 400 is capable of surge free continuous flow production with up to 99.5% portion accuracy. In addition to precise portioning, the innovative next generation vacuum stuffer also comes with over 40% fewer shear points for superior product integrity, backing up the companys best product appearance guarantee.
In an effort to reduce energy use, Marlens OptiServ models utilize regenerative servo technology for maximum efficiency. As motors decelerate and accelerate, the regenerative servo drive balances the load of all motors while lowering the overall heat production within the electrical system. The closed-loop servo system is controlled with modern Allen-Bradley components using PackML - the industrys standard programming language - for overall equipment effectiveness, operational efficiency and ease of troubleshooting.
Marlens president, Bob Campbell, stated, "We are thrilled to continue offering food and meat processors a vacuum stuffer that produces the highest quality products at peak performance levels - something they have come to expect from our legacy 'Opti twin-piston pump series which has consisted only of hydraulic units in the past. By combining regenerative servo drive technology with less wear-and-tear parts and a best-in-class ergonomic and sanitary design for quick, no tool changeovers, we are able to deliver a vacuum stuffer with a lower total cost of ownership and greener footprint."
"PACK EXPO International serves as an excellent platform for interaction with a number of processors, allowing Marlen the opportunity to whet the appetites of industry players across a number of different food processing segments", stated Jan Erik Kuhlmann, senior vice president of global sales and marketing. Kuhlmann continued, "Customers are anxious for the introduction of the OptiServ series to the US market and we anticipate a lot of very positive feedback at the show."
About Marlen International
Marlen International is a premium manufacturer of highly engineered food processing equipment and systems specializing in high quality proteins and a variety of other food products. Sold under the brand names of Marlen and Carruthers, their products have long set the standard for performance in pumping, stuffing, portioning, size reduction, thermal processing and food handling. Marlens engineering, design and technical experts are recognized as industry consultants and process partners, serving the worlds leading food brands through the delivery of operational excellence for over 60 years. Marlen International is a Duravant Company.
About Duravant
Headquartered in Downers Grove, IL, Duravant is a global engineered equipment company with an over 100-year operating history. Through their portfolio of operating companies, Duravant delivers trusted end-to-end process solutions for customers and partners through engineering and integration expertise, project management and operational excellence. With worldwide sales distribution and service networks they provide immediate and lifetime aftermarket support to all the markets they serve in the food processing, packaging and material handling sectors. Duravants market-leading brands are synonymous with innovation, durability and reliability. Visit http://www.duravant.com.
Featured Product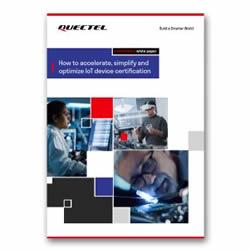 This white paper on the IoT device certification process can help your business accelerate product releases IoT device certification and testing is essential to the release of any connected product. Yet few IoT organizations have the time or skills to understand the variations and in-depth detail of the global certifications landscape. To help you decide which approach is best for your business, this white paper on IoT device certification sets out the complexities of certification, and explains how to optimize your organization's approach to obtaining certification.