The Virtual Foundry, makers of Filamet™ are uncovering new and amazing uses for the Metal filament every day
MADISON, Wis., Sept. 14, 2016 /PRNewswire/ -- The Virtual Foundry, makers of Filamet™ are uncovering new and amazing uses for the filament every day.

Not that you need reminding, but Filamet™ is a metallic filament containing plastic that allows virtually any FDM or FFF 3D printer to produce metal models. No other filament on the market exceeds 80% metal infusion, but Filamet™ hits 90%, making it a category killer in the infused filament marketplace.
Why is this groundbreaking? Filamet™ effectively turns any low cost filament based printer into a metal printer. As a result of the high metal content you can either process prints with heat to remove the 10% plastic, or you can go straight from the printer to buffing to create a print that's nearly indiscernible from pure metal.
Filamet™ has also proven dense enough to block radiation. This means that companies and individuals can now print tailored shields to protect against potentially harmful rays. "Radiation shielding has become a very active niche for us," said Bradley Woods, President of The Virtual Foundry. "Our industrial version of Filamet™ contains in excess of 92% metal by mass. This is high enough to completely block many types of radiation. This allows our customers to 3D print radiation shielding without needing to machine tools and molds."
You can currently order the Copper version of this filament from the website. They contain 89.5% metal powder in the consumer versions, together with binding agents that are removed during the firing process to leave a product containing 99.9% metal. It can then be polished like a metal product from a much more expensive printer. The next material that will become available is brass, and in the not too distant future we'll be seeing nickel. Ceramic and glass variations of Filamet™ will then be launched, which will work in the same way: turning low cost printers into a world of opportunity for makers everywhere.
About The Virtual Foundry: The Wisconsin-based company went on a mission to give makers access to metallic models long before 3D printing was even an option, and has previously worked with cold casting and electro-forming options. It launched Filamet™ on Kickstarter last year, raised 135% of its target and the fuss simply hasn't died down.
"Essentially The Virtual Foundry is on the quest to create high quality metal sculpture, jewelry and anything you can print, without requiring a complete, high-end, metals studio."
http://www.TheVirtualFoundry.com
Featured Product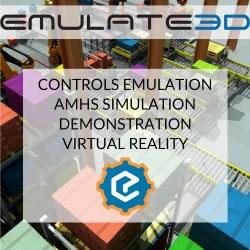 Emulate3D software helps you model and test your AMHS solutions rapidly. Use Demo3D to create running models quickly, then generate videos, stills, or view the models in virtual reality at the click of a button. Sim3D enables you to carry out experimental test runs to select optimal solutions and the most robust operating strategy, and Emulate3D Controls Testing is the best way to debug your PLCs offline, and off the project's critical path. Connect to major PLCs, import CAD, and plug into HTC Vive and Oculus Rift to produce awesome models!