Technology Achievement Reduces Cost and Size of Electronics for Communications and Bio-medical Products
ALBUQUERQUE, N.M.--(BUSINESS WIRE)--Optomec, a leading global supplier of production-grade additive manufacturing systems for 3D printed electronics and 3D printed metals, today announced its Aerosol Jet Technology can enable 3D polymer and composite structures to be printed at the micron scale with embedded electronics. This breakthrough has significant potential to reduce the cost and size of next-generation products used in the electronics and bio-medical industries.

This new capability is enabled by combining Optomec's proven Aerosol Jet solution for fine feature printing with a proprietary in-situ curing capability for rapid on-the-fly solidification. Unlike other high resolution 3D printing approaches that deposit material globally, i.e.: in a powder bed, and then cure locally to define a pattern, the Optomec method relies on both local deposition and local curing. This makes the process more economical, in terms of material consumption, but is also key to enabling the highest resolution features available.
"This breakthrough in 3D printing technology extends additive manufacturing to the creation of micron scale, free-form polymer structures and smart devices," said Mike O'Reilly, Optomec Director Aerosol Jet Product Management. Early adopter customers have already developed innovative applications for smart devices and micro-fluidic applications. "We continue to place emphasis on innovation such as Aerosol Jet 3D micro-structure printing to address our customers' next-generation product development challenges."
Using this process high aspect ratio, free-form 3D structures can be printed at the micron-scale, without the need for support structures, from materials including photopolymers and certain composites. Additionally, the resulting structures can be metallized with conformal 3D conductive traces and printed functional components, such as antennas and sensors, to create fully functional 3D components, all in one manufacturing machine. This direct digital approach optimizes the fabrication process, reducing manufacturing steps and material usage, making Aerosol Jet 3D micro-structure printing a cost-effective, green technology.
Aerosol Jet 3D micro-structure printing is capable of ultra-high resolutions with lateral features sizes down to 10 microns, and lateral and vertical build resolutions from 1 micron to 100 nanometers respectively. Aspect ratios of more than 100:1 have been achieved. Additionally, such 3D micro-structures can be printed onto existing components and products, such as semiconductor chips, medical devices or industrial parts. Click here to access a white paper on Aerosol Jet 3D micro-structure printing.
About Optomec
Optomec is a privately held, rapidly growing supplier of Additive Manufacturing systems. Optomec's patented Aerosol Jet Systems for printed electronics and LENS 3D Printers for metal components are used by industry to reduce product cost and improve performance. Together, these unique printing solutions work with the broadest spectrum of functional materials, ranging from electronic inks to structural metals and even biological matter. Optomec has more than 200 marquee customers around the world, targeting production applications in the Electronics, Energy, Life Sciences and Aerospace industries. For more information about Optomec, visit optomec.com.
Featured Product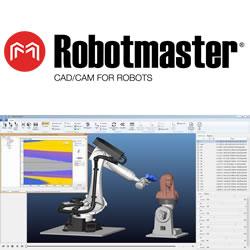 Since Robotmaster V7 uses integrated CAD/CAM functionality, for the first time, the power of Robotmaster can be used by welding, cutting and other process experts without buying or learning complex CAD/CAM software. As in past versions, Robotmaster V7 imports paths, but now makes it even easier for end users to leverage any CAD/CAM tool choice. It is an intuitive tool that anyone could use, with or without robotics expertise. It bridges the gap between robots and manufacturing by providing easy programming solutions for part manufacturing.