On the topic of: Avoiding Collision Damage of Motor Spindles Through an Innovative Motor-Spindle Safety System
A short description:

Different causes lead to unforeseen contact situations between moving components in the working space of machine tools. These collisions can result in damage of the machine components. High cost and machine downtime are the consequences. This article presents a solution for the reduction of contact forces in case of collision. The damages of the machine structure and the main components like the motor spindle can be successfully avoided. Further a modified mechanism with higher stiffness and better process properties of the protection system will be described and compared to the current status.
Date: Sep 14, 2016
Time: 3:15 PM
Location: W193-A
This technology will be shown at IMTS 2016 and installed on GF Machining Solutions high performance milling centers model Mikron HPM 800 U ST with crash demonstrations several times per day. GF Machining Solutions is located at S-8754. In addition, FFG MAG will have the spindle protection system displayed at IMTS in their booth S-8129. This unit has been successfully tested in their Specht HMC 600.
http://www.imts.com/exhdir/sessions/session-grid.cfm?grid-eventsby=EventType&grid-eventtypeid=2&grid-pageload=sessions%252Fsession-details.cfm%253FScheduleID%253D70
Featured Product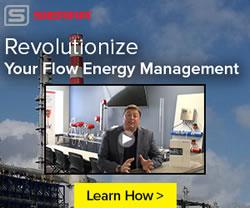 Sierra Instruments announces the launch of its new flow energy solution for managing and optimizing flow measurement for industrial facilities of all sizes. It features Sierra's QuadraTherm 640i/780i thermal flow meters, their InnovaMass 240i/241i vortex flow meters, and their new InnovaSonic 207i ultrasonic flow meter. Designed, built, and calibrated in the USA by Sierra, the Big-3TM share the same revolutionary Raptor firmware and many of the same software apps. They are a complete flow energy solution for flows like compressed air, natural gas, steam, and hot and chilled water. Together, they set a new standard in ease-of-purchase, performance, accuracy, reliability, and ease of use.