The forthcoming MachineWorks release contains many exciting developments, one of them being the support of cloud-based applications for CNC simulation and verification.
SHEFFIELD, UK, Jul 5, 2016 - MachineWorks Ltd, global supplier of CNC Simulation and Verification Component Software, MachineWorks ® and of Solid Modelling Software Toolkit for Processing Polygon Mesh, Polygonica ®, will be exhibiting brand new features at the International Manufacturing Technology Show (IMTS 2016) in Chicago this September, between the 12th and the 17th at booth E-3327.

What's New in MachineWorks?
The forthcoming MachineWorks release contains many exciting developments, one of them being the support of cloud-based applications for CNC simulation and verification. This new feature allows networked devices such as mobile phones, tablets, laptops and desktops to visualise MachineWorks simulations running in the cloud.
A new geometry query API makes rendering integration much easier for applications. It has been designed to be future-proof and flexible.
Customers who use both MachineWorks and Polygonica will benefit from a new API to provide a seamless transition between the toolkits, allowing direct and efficient transfer of geometry and associated data.
Real-time gouge detection has been extended to support more machining types, including linear, rotational, arc and B-axis turning and multi-axis wire EDM.
Although Rapidcut simulation was already extremely fast, the new multithreaded Rapidcut engine makes it even faster by taking advantage of multi-core CPUs.
Where is MachineWorks embedded?
Leading CAM software suppliers, CNC Controller and CNC Machine Tool manufacturers from across the world integrate MachineWorks industry-proven APIs into their software applications in order to create systems with complex simulation, real-time verification and look ahead collision detection in the full envelope of the machine.
Tools up MachineWorks' Sleeve
MachineWorks also provides tools for toolpath optimisation, for healing solids and for easy integration such as MachineWorks Simulator that produces a working prototype within a day and help customers get quickly to market.
MachineWorks Support team is there for the customers every step of the way and continue to provide support and innovative solutions throughout the full extent of the partnership, becoming an invaluable asset for the developers using MachineWorks.
Use of MachineWorks
MachineWorks functionality offers real-time simulation and verification for any type of CNC machining including kinematics, multi-axis, mill-turn, robotics, Swiss-type turning, Wire EDM, hybrid machining (subtractive + additive manufacturing) with features such as on-the-fly crash and gouge check, target part comparison, material removal and infinite zooming.
About MachineWorks
MachineWorks Software sets the standard for CNC Simulation and Verification component software in the industry. More than 60% of CAM developers in the world have integrated MachineWorks technology into their applications and benefited from MachineWorks cutting-edge functionality since 1994. MachineWorks toolkit has been integrated by software and hardware OEMs looking for a solution in simulation of material removal and clash and gouge detection of any type of CNC machining. MachineWorks core technology combines speed, accuracy and stability. It is ideally suited for anti-crash systems, complex machining and full machine simulation.
http://www.machineworks.com/
Featured Product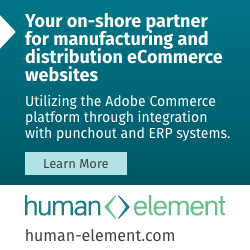 With Human Element, you will build a strategic partnership with experienced on-shore strategists and developers who understand the pain points unique to manufacturers and distributors. Using Agile methodologies and proven eCommerce website development strategies, our team positions clients for success.