"How Standards Can Help Foster Growth in the 3D Printing Environment"
PISCATAWAY, N.J.--(BUSINESS WIRE)--The Institute of Electrical and Electronics Engineers - Industry Standards and Technology Organization (IEEE-ISTO) Printer Working Group (PWG) will present June 4 and June 6, 2016 at the drupa 2016 international printing conference on its new standard for communicating 3D print jobs and status over a network and how open standards for protocols and file formats can accelerate the development of 3D printing ecosystems.

PWG IPP Working Group Co-Chair Paul Tykodi will speak in Hall 07a - stand C41 of the 3D Fab + Print organization, a global community for 3D printing and fabrication. His talk, "How Standards Can Help Foster Growth in the 3D Printing Environment," will describe how the PWG is extending its industry standard Internet Printing Protocol (IPP) to support the needs of the 3D Printing environment and bring the existing capabilities of IPP to 3D Printing environments.
Tykodi will discuss how the PWG's Internet Printing Protocol (IPP) attributes, values, and operations will facilitate simplified discovery of 3D printer characteristics and capabilities, provide robust delivery of 3D jobs, and enable in-band status monitoring of 3D printers and print jobs. He also will discuss benefits of standardization to manufacturers and software developers who can more easily support both stand-alone network deployments and locally attached USB deployments with a single technology.
The PWG is a program of the IEEE Industry Standards and Technology Organization (ISTO). Members include printer makers, print server developers, operating system vendors, network operating system developers, network connectivity vendors and print management application providers. For more information see http://www.pwg.org/3d/.
Featured Product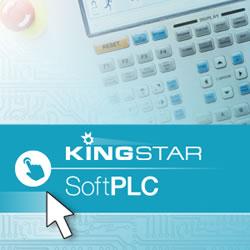 The top machine builders are switching from proprietary hardware-based PLCs, like Allen-Bradley, TwinCAT, Mitsubishi and KEYENCE, to open standards-based EtherCAT-enabled software PLCs on IPCs. KINGSTAR provides a fully-featured and integrated software PLC based on an open and accessible RTOS. KINGSTAR Soft PLC also includes add-on or third-party components for motion control and machine vision that are managed by a rich user interface for C++ programmers and non-developers alike.