The Anvil 3D auto-loading printer uses a simple modeling software, remote control and iPad app to make 3D printing easier for all
Anvil Technology launched their Kickstarter campaign today and is looking to raise a total of $100K to help offset their manufacturing and shipping costs. The Anvil 3D printer simplifies the filament loading process and accompanies that with a simple, unintimidating software than any user can master within no time.

By automatically connecting to the nearest Wi-Fi, users can access Anvil's server from anywhere and choose from the massive library of models and kits, modify them on their iPad and print with the push of a button. Makers and non-makers can share their designs and save them to the cloud for others to view and print. For less than the price of a smartphone, anyone can become a part of the maker community.
"By bringing the Anvil 3D printer to Kickstarter, we have the ability to offer everyone the opportunity to become a part of the maker community for less than the price of a smartphone," said Anvil Technology spokesperson Tom Sun. "We're aware that there are other 3D printers out there - we're just trying to simplify the process so that everyone can see their ideas brought to life."
Since setting the parameters of a 3D printer can be rather complex for most consumers, Anvil Technology simplified their settings into five different grades to select from that the software will automatically adjust to. While maintaining a simplistic user interface, the Anvil 3D printer is designed with a minimalistic style to blend in nicely with any space, giving it a modern touch.
Early adopters of the Anvil 3D printer will be able to pre-order one on Kickstarter for $199, which is over $150 less than the market retail value. For more information and specifications on the Anvil 3D printer, or where to pre-order one, visit http://bit.ly/AnvilKS.
ABOUT ANVIL TECHNOLOGY
Anvil is a Shanghai-based technology company, specializing in 3D printing. Anvil America branch is located in Madison. The Anvil team is made up of a very effective and developing group of leaders. From the beginning of the concept, their goal has been to stay ahead of time with innovation. The young team is passionate about bringing Anvil to life and constantly pushes each other to be even more creative. For more information, visit http://bit.ly/WinAnvil.
Featured Product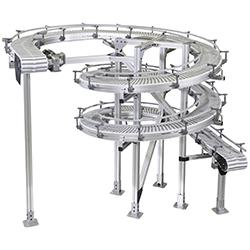 Dorner's 2200 Series SmartFlex Helix Conveyor's compact, flexible design and small footprint maximizes valuable floor space while providing customers with flexibility in layout. The custom infeed and outfeed lengths allow the conveyor to extend beyond the spiral, reducing the number of conveyors required. The Helix Conveyor is ideal for applications including accumulation, buffering, cooling between processes or machines, and more!