3D printed sculpture from renowned designer, Nick Ervinck, marks the first in a series of high-profile collaborations from Stratasys as part of the company's new J750 collection, 'The New Ancient' Stratasys also reveals a new creation based on an evolutionary two-year collaboration with Architect, Programmer and Game Designer, Jose Sanchez, made possible with Stratasys' J750 3D Printer
MINNEAPOLIS & REHOVOT, Israel--(BUSINESS WIRE)--Stratasys Ltd. (Nasdaq:SSYS), the 3D printing and additive manufacturing solutions company, today announced that it has collaborated with esteemed designers to create the world's first 3D printed artworks on the company's breakthrough full color, multi-material J750 3D Printer, launched April 4. The 3D printed pieces - 'Wolfkiam' from Nick Ervinck and 'Polyomino' from Jose Sanchez - are the first two art and design projects to exploit the advanced capabilities of the new full-color multi-material 3D printer, enabling an unprecedented array of colors and level of detail, as well as geometric complexities for the 3D printing industry. Polyomino marks the final evolutionary phase of a two-year professional collaboration with Stratasys, while Wolfkiam celebrates the launch of a brand new series of high-profile collaborative 3D printed works from Stratasys entitled 'The New Ancient', exploring the juxtaposition of ancient crafts and cultures with modern technologies. The collection, which is set to be launched later this year, will also include works from the world recognized Zaha Hadid Architects, Prof. Neri Oxman, Daniel Widrig, Dov Ganchrow and Luc Merx.

With an unparalleled spectrum of over 360,000 colors available on the Stratasys J750 3D Printer, Ervinck explains that the Wolfkiam sculpture was designed with these specific capabilities in mind, in order to maximize the potential of the new technology. "The vibrant colors and intricate details of the piece, such as the central lines representing the figure's veins, were integral to the sculpture, both in creating a sense of movement and fluidity and in reflecting the traditional cultural styles that inspired the work. It would have been impossible to manually transfer this texture onto the sculpture in any other way - it is only with the new Stratasys J750 3D Printer that this first-of-its kind artwork has been made possible."
As the first piece to be unveiled as part of the Stratasys' The New Ancient 3D printed collection, Nick Ervinck's Wolfkiam sculpture epitomizes the dialogue between old and new by combining traditional designs inspired by Incan and Mayan cultures with the advanced technological forms inherent to digitally-produced artworks. "The nature of 3D printing has allowed me to redefine traditional design methods, facilitating the creation of complex, futuristic forms in which the empty space is equally as meaningful as the vibrant patterns and fluid shapes," he continues. "With Stratasys' J750 3D Printer, I was able to design a piece that combines an organic, biomorphic shape with a very technical play of lines and colors, and bring this to life from screen to sculpture with unmatched precision and quality - all at the click of a button. Having been able to see first-hand the capabilities and implications of this technology for art and design, it is fascinating to consider the possibilities that the Stratasys J750 could open in the future."
While the Wolfkiam sculpture represents the launch of a brand new series of artworks from Stratasys, Polyomino marks the fruition of a longstanding professional collaboration with Architect, Programmer and Game Designer, Jose Sanchez. Having originally initiated the Polyomino project in 2014, the newly launched Stratasys J750 3D Printer has now enabled the piece to be finalized in a spectacular range of vivid colors. Drawing upon the combinatorial and constructive nature of video games such as Tetris, the structure consists of a series of 3D printed pieces that can be assembled in different ways using magnets to create a larger 'molecule'. As Sanchez explains, the extensive color palette available on the Stratasys J750 3D Printer was fundamental to the entire project. "The artwork uses color as a guideline to construction. Consisting of only two different geometries, we explored the use of color as a form of differentiating the connecting pieces. With the limitless colors available on the J750, we were able to explore the way in which different colors affect perception of the piece, mimicking areas of lightness and shade and facilitating an almost infinite number of unique mixes and blends. These options connect 3D printing with gaming strategies, allowing users to explore and interact with an artwork in an entirely new way."
Both artworks feature ultra-smooth surfaces enabled by the new Stratasys J750 full color, multi material 3D Printer, with layer thickness as fine as 0.014mm - around half the width of a human skin cell. According to Naomi Kaempfer, Creative Director, Art Fashion Design, Stratasys, the Polyomino and Wolfkiam works mark a milestone for digital art and design, with the latter representing a sneak preview of the company's new cutting-edge collection: "The New Ancient is a tribute to ancient wisdoms and lost crafts," she says. "The collection focuses on revisiting timeless design concepts from different cultures and antique eras and exploring the way in which these are interpreted with our modern tools, technologies and contemporary visions. Merging these historical design elements with our new breakthrough 3D printing technology is the perfect way to celebrate this transformation of art, design and manufacture."
For more than 25 years, Stratasys Ltd. (NASDAQ:SSYS) has been a defining force and dominant player in 3D printing and additive manufacturing - shaping the way things are made. Headquartered in Minneapolis, Minnesota and Rehovot, Israel, the company empowers customers across a broad range of vertical markets by enabling new paradigms for design and manufacturing. The company's solutions provide customers with unmatched design freedom and manufacturing flexibility - reducing time-to-market and lowering development costs, while improving designs and communications. Stratasys subsidiaries include MakerBot and Solidscape, and the Stratasys ecosystem includes 3D printers for prototyping and production; a wide range of 3D printing materials; parts on-demand via Stratasys Direct Manufacturing; strategic consulting and professional services; and the Thingiverse and GrabCAD communities with over 2 million 3D printable files for free designs. With more than 2,700 employees and 800 granted or pending additive manufacturing patents, Stratasys has received more than 30 technology and leadership awards. Visit us online at: www.stratasys.com or http://blog.stratasys.com/, and follow us on LinkedIn.
Stratasys and Connex are registered trademarks of Stratasys Ltd. and/or its subsidiaries or affiliates. Stratasys J750 is a trademark of Stratasys Ltd. and/or its subsidiaries or affiliates.
Featured Product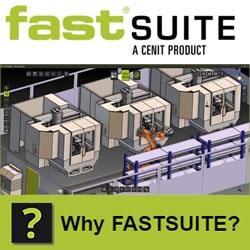 With two product lines, FASTSUITE for V5, which is seamlessly integrated with CATIA/DELMIA V5, and FASTSUITE Edition 2, a standalone platform, the areas of OLP (offline programming), manufacturing simulation and virtual commissioning are the core of our business activities. Our applications and solutions are not only focused on real customer needs, but they are also designed to improve efficiency and quality of our customers' manufacturing processes. No matter if the process is just about offline programming of a single robot at a small job-shop company or about the validation of a complete production line at an Automotive or Aerospace OEM. We strive to ensure a constant quality of our services and to provide the best possible support to our worldwide customers. Therefore we have established three digital manufacturing hubs around the world. All our teams have a proven expertise on manufacturing process integration and profound IT implementation skills.