KYOTO, Japan, March 29, 2016 /PRNewswire/ -- OMRON Corporation, Kyoto City, will introduce on April 1 the new confocal fiber displacement sensor ZW-7000 Series. Incorporating the new white light confocal principle(*2) of measurement, the ZW-7000 Series is a non-contact-type displacement sensor that can continuously measure the height of objects with various materials and shapes with an accuracy of microns while moving the sensor head.

Recently, manufacturers of smartphones and other digital devices are under pressure to maintain high-standard quality control for inspecting parts made with an increasingly diversified mix of materials and shapes to meet the requirements for high performance and a thin body unit and yet they also need to supply products in a timely manner.
Given such circumstances, what manufacturers expect from the quality inspection process is to measure the height of a target object precisely and promptly. However, previously available sensors used to make errors while moving the sensor head around to continuously measure objects with curved, shiny and coarse surfaces. As a result, manufacturers had to halt measurement to re-tune the direction and angle of the sensor head to ensure accurate measurement, making it difficult to achieve precise measurement and short inspection time at the same time.
Incorporating the white light confocal principle, OMRON's newly developed ZW-7000 Series comes with a single sensor head which moves around and precisely measures the height of objects varying in material and shape. The ZW-7000 Series achieves high-precision and high-speed quality inspection, contributing to improvement in the quality of products, reduction in inspection time, and also quick set-up of the process.
Ensuring precise and prompt quality inspection
The white light confocal principle makes it possible to continuously and precisely measure the height of objects coming in all materials including mirror, coarse and transparent surfaces and in all shapes, including curved surfaces and narrow hollows, without ever stopping the sensor head.
Synchronous functions, including EtherCAT (R) and triggers, are incorporated to correctly synchronize sensor head movement and measurement timing so that the targeted spots can be precisely measured with the moving sensor head.
Reducing inspection time significantly
The sensor head has a compact body, about a third in unit size as compared with a previously available unit, making it possible to install one or more units in areas with space limitation. Simultaneous measurement reduces inspection time.
The sensor head does not have to be installed in any fixed direction and can be moved in any direction for measurement, making it unnecessary to rotate the sensor head, as previously required, to adapt to objects in different shapes as well as the sensor head's movement in different directions.
As the sensor head only weighs 180g, its vibration caused by the movement of a robot arm or the XY-stage, to which it is attached, will stop in a short period of time.
Reducing setup time for inspection process
OMRON's proprietary detection principle makes it possible to precisely measure parts with different materials and shapes with a single sensor head, eliminating the previously required process to change to a different sensor head fitting a different target object.
The sensor head built only with optical parts is not affected by electric or magnetic noise. EMC and thermal countermeasures that were previously required for eliminating factors in causing wrong measurement are no longer necessary in the vicinity of the sensor head.
The white LED, which is used as the light source, does not require the kind of tough safety measures and training that were a must with the previously available displacement sensors using laser.
OMRON brings innovation to manufacturing sites through automation with "integrated," "intelligent" and "interactive" concepts. The ZW7000 Series will play a core role in helping solve various problems at workplaces concerning the quality inspection process and take a new step to enhance high-speed and high-accuracy automation systems. OMRON adds robotics technology to our advanced, world-leading ILO+S (Input, Logic, Output, and Safety) to be committed to innovating manufacturing sites with manufacturers.
Key features
1. Reliable measurements for any material and surface types
Previously available displacement sensors measure the height of an object through the averaging process, making it difficult to reproduce the exact profile of the object in a moving measurement and causing deterioration in inspection quality. The white light confocal principle adopted for the ZW-7000 Series can make high-speed sampling of profile, without averaging, for objects of various materials and shapes for continuous and accurate measurement.
(Photo2: http://prw.kyodonews.jp/prwfile/release/M102197/201603249159/_prw_OI3fl_75rrBu89.jpg)
(Photo3: http://prw.kyodonews.jp/prwfile/release/M102197/201603249159/_prw_OI4fl_ckJUYpb0.jpg)
2. Efficient installation and motion solutions to increase inspection speed
Compact sensor heads can be installed side by side for simultaneous measurement, cutting back on measurement time.
(Photo4: http://prw.kyodonews.jp/prwfile/release/M102197/201603249159/_prw_OI5fl_K7CG3054.jpg)
The sensor head can measure from the same installation position while moving in any direction, with no restriction on installation direction. This eliminates the process to rotate the sensor according to the object shape or moving direction.
(Photo5: http://prw.kyodonews.jp/prwfile/release/M102197/201603249159/_prw_OI6fl_DtMa0NcS.jpg)
3. Easy to tune for quick set-up of inspection process
There is no need to select different sensor heads for different objects, which saves the time required when purchasing and designing. This leads to reductions in set-up work. Moreover, this sensor allows stable measurements without fine tuning.
(Photo6: http://prw.kyodonews.jp/prwfile/release/M102197/201603249159/_prw_OI7fl_fQgAKu06.jpg)
(Documentation: http://prw.kyodonews.jp/prwfile/release/M102197/201603249159/_prw_OA1fl_468c9346.pdf)
About OMRON Corporation
OMRON Corporation is a global leader in the field of automation based on its core technology of sensing and control. OMRON's business fields cover a broad spectrum, ranging from industrial automation and electronic components to automotive electronic components, social infrastructure systems, healthcare, and environmental solutions. Established in 1933, OMRON has over 39,000 employees worldwide, working to provide products and services in more than 110 countries and regions. In the field of industrial automation, OMRON supports manufacturing innovation by providing advanced automation technologies and products, as well as through extensive customer support, in order to help create a better society.
Featured Product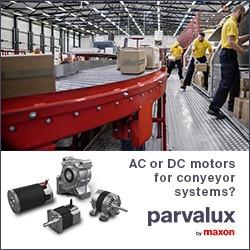 This GB56 right-angled, coupling driven gearbox from Parvalux packs a powerful punch in a small package. A width of 39mm and an output torque of 50 Nm in short-term operation. Ideal for applications where space is at a premium.