The leading toy rental company is expanding to rent 3D printers and stream toy designs that can be 3D printed in customers' homes.
As an innovator, Pley constantly looks to push the envelope and find ways to make educational toys even more accessible to kids. Leveraging the maker movement and the recent advances in 3D printing, Pley announced that it will soon begin to rent 3D printers and stream toy designs to customers. Known as the Netflix-for-Toys, the company is now expanding its physical toy rental service to allow customers to download new cutting-edge designs of toys, 3D print them at home and play with them immediately.

Co-founder and CEO of Pley, Ranan Lachman, commented: "Pley is inventing the future of play and, since it launched in 2013, it has constantly stayed at the forefront of innovation. Our goal is to inspire and develop children to think creatively and release their potential by creating their own toys. Kids are significantly more creative than adults, so why do we keep buying them toys designed by adults? At Pley, we believe that children should create their own toys."
"We are excited about the recent advances in 3D printing that allow us to rent 3D printers and let customers print their own toys at home. We plan to stream to our customers a catalog of 1,000 toy designs so children can print their favorite toys and design their own using our software."
In 2015, Pley created Pleyworld (http://www.pleyworld.com), a crowdsourcing platform for new toy creations, that enables children to vote on the designs they like most. Pley plans to take the most popular 3D designs and stream them to members. The company will also manufacture and rent these popular designs to families who dont have a 3D printer yet. Using this process, 13 toys were already created on Pleyworld and they will soon be rented to thousands of families using Pleys automated machines. Several of these designs already won industry awards and are preferred by Pleys members over toys from leading brands.
Lachman continues: "Pley democratizes the toy selection and creation, taking the toy industry from its current guess-based, adult-centric design process to a more consumer-driven design. Adding 3D printers to our rental catalog and streaming toy designs is a natural next step in our mission to provide children access to the best educational toys."
How will this work? Pley will include kid-friendly 3D printers in its catalog of toys for rent. Once a 3D printer has been delivered, customers will be able to download designs to the printer, print them at home and start playing. As with any other toys, customers will be able to keep/buy the printers if they are interested. Creative kids who design their toys could upload their designs to Pleyworld.com and have other kids vote on them. When the design gets 5,000 votes, it will become available for streaming and will be also offered as a physical toy using Pleys automated assembly machinery.
To find out more about Pley, go to http://www.pley.com or contact 1 (888) 812-8749.
****
About Pley
Pley is the leading toy rental service, helping parents save money, reduce clutter and conserve the environment, while raising brighter kids. Members can choose from over 500 toys and never have their children be bored again. Once the kids finish playing, they simply swap out their toy for another one and enjoy endless fun.
Featured Product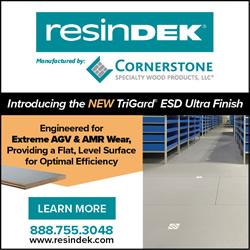 ResinDek flooring panels are designed for elevated platforms such as mezzanines, pick modules, and work platforms. They have the proven structural integrity to support dynamic and static rolling limits from 2,000 to 8,000 lbs. ResinDek flooring panels are available in a multitude of options that are customized for load capacities, required finish type, volume and type of traffic including heavy rolling pallet jack loads and robotic traffic with AGVs and AMRs.