Lee Industrial Contracting Inc., a premier company in "Providing Turn-Key Solutions for Plant Projects" is expecting to hire almost 100 employees in 2016.
PONTIAC, Mich., Feb. 18, 2016 /PRNewswire/ -- Lee Industrial Contracting, Inc., a premier company in "Providing Turn-Key Solutions for Plant Projects," is hiring almost 100 employees this year to sustain its rapid 30% growth in 2016.

"There is no better time to join our team," says Recruiting Manager, Kevin Scanlon. "With our new Employee Stock Ownership Program and our amazing company benefits, Lee Contracting is an attractive company to make a career."
"I have been at Lee Industrial Contracting for 11 years and watched the company over triple in size and it always amazes me that we can keep growing with such talent. I know that this has a lot to do with the training and teamwork and I just wanted to say that it is nice to be a part of the growth of this company for many years to come. I really don't think that there is another company out there like ours," says Account Manager, Mike Hahn.
Lee Industrial Contracting is looking for immediate hire in the following areas:
Industrial Electrical Foreman-Journeyman
Rigging Foreman
There is also a general application that anyone can fill out and as positions open and will be considered. To apply, visit us at: www.leecontracting.com/employment-opportunities.
About Lee Industrial Contracting
Founded in 1989 and headquartered in Pontiac Michigan, Lee Industrial Contracting is a leader in industrial contracting services and offers a wide array of project types including rigging and transportation, foundations, electrical, pipefitting, fabrication, machine repair, controls/robotics and more. Lee Industrial Contracting doesn't specialize in one specific trade, but rather Turn-Key solutions that are the logical choice for industrial projects. Having entirely in-house staff and crew creates an efficient work model, minimizing downtime and miscommunication during projects. For more information visit www.leecontracting.com
Featured Product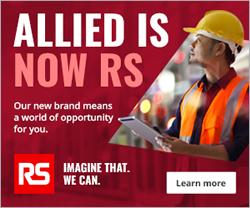 Moxa is a leader in edge connectivity, industrial computing, and network infrastructure solutions for enabling connectivity for the Industrial Internet of Things. With over 30 years of industry experience and 65 million devices connected worldwide, Moxa has a distribution and service network to serve customers in more than 80 countries. Now at Allied-find over 1,000 products from Ethernet switches, protocol converters, routers, and more. Allied Electronics & Automation, part of RS Group & Automation, part of RS Group is an authorized distributor of Moxa.