The conference will be held October 7 at the National Research Council of Canada in Ottawa.
WATERLOO, Ontario - October 2, 2015 - Teledyne DALSA, a global leader in digital image sensing technology, will demonstrate its machine vision technology, including two new cameras, at AIAs first Canadian Machine Vision Conference in booth 17. The conference will be held October 7 at the National Research Council of Canada in Ottawa.

Genie Nano GigE Vision Cameras
The recently introduced Genie Nano series of affordable, easy-to-use GigE Vision cameras will be on display at the conference. The series combines industry-leading CMOS image sensors, including the Sony Pregius and On Semiconductors Python, with a fully optimized camera platform to deliver high frame rates and powerful features faster, stronger, smaller, and cheaper. Genie Nano cameras are suitable for a wide range of inspection applications including intelligent traffic systems (ITS), entertainment, medical, food and beverage inspection, and electronics and printed circuit board (PCB) inspection, among many others.
Calibir Uncooled LWIR Camera Platform
Teledyne DALSAs latest innovation, the soon-to-be-released Calibir uncooled LWIR camera platform will be on display, demonstrating its excellent shutterless imaging performance and unparalleled flexibility in a tiny package. With a form factor of 29mm x 29mm x 29mm (excluding mount), the camera can be integrated in tight spaces for compact solutions. The platform serves a wide range of todays uncooled imaging applications - including thermal night vision, threat detection and tracking, high-speed motion tracking, advanced human vision, and vehicle vision systems - with an architecture that supports even more possibilities for the future.
Educational Presentation on Line Scan Advances
Teledyne DALSAs Xing-Fei He, Ph.D. will be presenting on the "Advances in Line Scan Technology" at the conference. His session will be held on October 7 at 1:30 - 2:00.
Export Control and Controlled Goods
Teledyne DALSA solutions are subject to Canadian export controls. Teledyne DALSA design controls are compliant to the relevant MIL-standards.
About Teledyne DALSA, Inc.
Teledyne DALSA is an international leader in high performance digital imaging and semiconductors with approximately 1,000 employees worldwide, headquartered in Waterloo, Canada. Established in 1980, the company designs, develops, manufactures and markets digital imaging products and solutions, in addition to providing specialized semiconductor products and services including MEMS. For more information, visit Teledyne DALSAs website at www.teledynedalsa.com.
Featured Product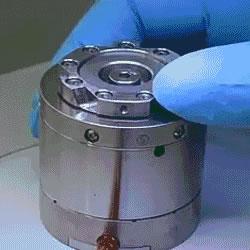 Hexapod micro-motion 6-axis platforms are based on a very flexible concept that can easily solve complex motion and alignment problems in fields including optics, photonics, precision automation, automotive, and medical Engineering.