Latest Addition to 3100 Series Designed for Fixed Frame and Robot-Mounted Industrial Inline 3D Inspection
Delta, British Columbia October 01, 2015 -- LMI Technologies (LMI), a leading developer of 3D scanning and inspection solutions, is pleased to announce the official launch of the Gocator 3109 3D Smart Snapshot Sensor.

Gocator 3109 is the latest addition to the Gocator 3100 series of compact, pre-calibrated, blue LED, stereo snapshot sensors manufactured by LMI; delivering high-precision 3D point-cloud acquisition, measurement, and control decision capabilities in a single device.
Gocator 3109 is designed for industrial assembly line builders who need to perform full in-line inspection, where sensors mounted on fixed frames or robots are used for quality control on a stationary target. The 3109's all-in-one functionality minimizes the number of components required in these types of multi-feature inspection systems, significantly reducing system and maintenance costs.
The most notable feature of the Gocator 3109 is that it has the smallest footprint of any blue LED projection scanner on the market. The Gocator 3109 measures just 49 x 100 x 155 mm — almost half the size of the Gocator 3110 model — and weighs less than 1.5 kg. This ultra compact design and lightweight package make the 3109 easy to mount onto robotic arms, fit single or multiple sensors into confined spaces (e.g. for measuring engine cylinders), and integrate or embed into machines and other factory devices. With synchronized multiple Gocator 3109s, system integrators can build 3D inspection systems for large parts at a fraction of the cost of sourcing a large format 3D scanner with similar resolution.
"LMI saw a market need for an inspection system that could take measurements of multiple features in just one scan, and with a higher degree of operational simplicity than standard industry solutions. From listening to customer feedback, we developed the Gocator 3109 with the ability to acquire high-resolution, full-field scans quickly in order to inspect multiple features of parts with complete 3D visualization and execute accurate pass/fail control decisions", said Chi Ho Ng, Director Product Management at LMI Technologies.
For more information on Gocator 3109, please visit http://www.lmi3d.com
About LMI Technologies
As the OEM-focused 3D scanning and inspection leader, LMI Technologies is dedicated to developing easy-to-use solutions that increase productivity and profitability for our customers. LMI is shaping the industry with world-class 3D scanning and inspection solutions. Our globally recognized product line includes Gocator All-In-One 3D Smart Sensors, HDI 3D Scanning Systems, MikroCAD 3D Surface Metrology Systems, and chroma+scan 3D Log and Board Sensors. For more information, visit lmi3d.com.
Featured Product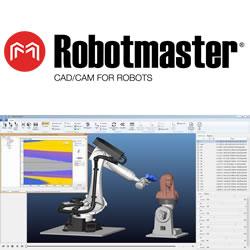 Since Robotmaster V7 uses integrated CAD/CAM functionality, for the first time, the power of Robotmaster can be used by welding, cutting and other process experts without buying or learning complex CAD/CAM software. As in past versions, Robotmaster V7 imports paths, but now makes it even easier for end users to leverage any CAD/CAM tool choice. It is an intuitive tool that anyone could use, with or without robotics expertise. It bridges the gap between robots and manufacturing by providing easy programming solutions for part manufacturing.