The Motoman Robotics Division of Yaskawa America, Inc. (Yaskawa Motoman), R/X Automation Solutions (RXAS) and Universal Robotics have formed a strategic partnership to deliver robotic pharmacy order fulfillment systems that will provide complete verification of National Drug Code bar codes and validation of robotically placed patient labels for pharmacy unit of use items. The system will automatically handle an extensive variety of items from bottles to boxes and odd-shaped products with an ROI projected to be less than one year.
Dayton, OH (PRWEB) September 22, 2015

"Offering automated systems to the mail order, central fill and specialty pharmacy industries as well as drug manufacturers and drug re-packagers is a natural expansion of our automated process tools and software for the pharmaceutical industry," mentioned Tim Chambers, CEO of RXAS. "We are excited to partner with other industry experts."
RXAS has built custom pharmaceutical equipment for eleven years. Their product offerings include the world's fastest and most reliable packaging systems and pill counters, which are complemented by software for process quality control and item validation.
"This solution leverages the breadth of our robots by using versatile six-axis and high-speed delta models to bring automation to pharmaceutical applications," said Roger Christian, vice president of business development and marketing for Yaskawa Motoman.
Universal's patented Neocortex® artificial intelligence software - the leading AI product in the industry - adds intelligence to 3D vision, enabling robots to recognize a wide range of random unit of use items.
David Peters, CEO of Universal Robotics, stated, "Neocortex machine learning-based 3D vision provides unprecedented flexibility to allow the robot to handle an unlimited number unit of use containers."
Learn more about our robotic pharmacy order fulfillment systems in the Yaskawa booth #C4243 at Pack Expo in Las Vegas, NV (September 28 - 30, 2015).
About Yaskawa Motoman
Founded in 1989, the Motoman Robotics Division of Yaskawa America, Inc. is a leading robotics company in the Americas. With over 300,000 Motoman® robots installed globally, Yaskawa provides automation products and solutions for virtually every industry and robotic application; including arc welding, assembly, coating, dispensing, material handling, material cutting, material removal, packaging, palletizing and spot welding. For more information please visit http://www.motoman.com or call 937.847.6200.
About R/X Automation Solutions Inc.
R/X Automation Solutions Inc. is focused on providing pharmaceutical and health care customers with cutting edge technology to improve operational efficiency, increase production accuracy and decrease total cost of operation of production. For more information please visit http://www.rxas.com or call 303.485.1499.
About Universal Robotics
Universal Robotics is a software engineering company that creates state-of-the-art artificial intelligence with multi-dimensional sensing and motion control to expand the reach of automation for a host of applications, making machines more flexible and providing learning from big data. For more information please visit http://www.universalrobotics.com or call 615.366.7281.
Featured Product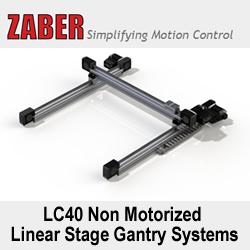 A Zaber gantry kit comes with everything you need to build a customized XY gantry system or XYZ gantry system. These gantry systems feature coordinated multi-axis motion, plug-and-play operation, easy integration with end-effector options, and built-in IO and E-Stop capabilities. An intuitive ASCII interface allows the user to easily communicate with the gantry systems using our free software, either Zaber Motion Library with APIs for several popular languages or Zaber Console. Third party terminal programs that can communicate over a serial port can also be used.