The SCHUNK PGN-plus Permanent has been seamlessly integrated into the PGN-plus family.
SCHUNK is raising the bar with the new PGN-plus Permanent gripper! The complete contour of the patented multi-tooth guidance is equipped with grease pockets, which ensures a continuous and more even distribution of lubricant, even with short strokes. This increases the already great life span of the gripper, and makes it practically maintenance-free. It reduces operating costs and ensures excellent repeat accuracy of 0.01 mm. The gripper is equipped with an oval piston drive, ensuring high forces in confined spaces.

The PGN-plus family has been successfully used in applications with high temperatures, contaminants, and aggressive media, as well as in clean rooms and explosive environments. On request, the modules are available with spring assist for mechanical gripping force maintenance, combined with compensation units for compensating angle errors, with force intensifier, or as a special precision version.
The SCHUNK PGN-plus Permanent has been seamlessly integrated into the PGN-plus family. A whole range of automated applications can be reliably implemented with the universal gripper. Many industries will benefit from this gripper; machine/system loading in the metal cutting industry, in foundries, assembly applications in the automotive and electrical industry, and to delicate handling tasks in the medical and pharmaceutical industry.
SCHUNK underlines the extraordinary performance of this universal gripper with a unique extended warranty, which is second to none on the market. The PGN-plus Permanent is available in the unit sizes 50 to 125. An expansion of the existing PGN-plus series is planned.
Featured Product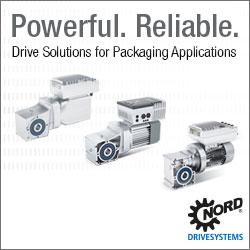 NORD's redesigned line of small CLINCHER parallel gear units showcase increased power and torque capacity for a variety of applications. These re-engineered versions will be replacing the existing SK0182NB, 0282NB, and 1382NB units. They are lightweight, have improved heat dissipation, are more cost-effective, and are available with NORD nsd tupHTM sealed surface conversion for wash-down and extreme environments.