Japan-based Industrial Automation Leader Adds Advanced Robotics Capability with Acquisition
FOSTER CITY, Calif. - SEPTEMBER 16, 2015 - Mooreland Partners (http://www.moorelandpartners.com) the leading independent investment bank providing M&A advisory and capital raising services to the global technology industry, today announced that it acted as the exclusive financial advisor to Adept Technology (NASDAQ: ADEP) on its sale to OMRON Corporation (TSE: 6645).

OMRON plans to acquire 100 percent of the outstanding shares of Adept, via an all-cash tender offer to be followed by a second-step merger. OMRON is offering Adept investors $13.00 per share of Adept, which represents a 63 percent premium over the stocks closing price on September 15, 2015. This values Adept at approximately $200 million. OMRON will fund the tender offer through cash on hand. The tender offer is expected to commence on or about September 23, 2015, and the transaction is expected to close on or about October 23, 2015. The closing of the transaction is subject to customary closing conditions, including at least a majority of shares of Adept common stock being tendered in the offer, expiration of the applicable waiting period under the Hart-Scott-Rodino Antitrust Improvements Act, and receipt of required foreign antitrust approvals. The transaction has been unanimously approved by the Boards of Directors of both companies.
Based in Pleasanton, Calif., Adept is the largest U.S.-based manufacturer of industrial robots including autonomous mobile robots, industrial robots, configurable linear modules, machine controllers for robot mechanisms and other flexible automation equipment, as well as machine vision systems and software. The companys strategy is to provide a broad range of highly reliable integrated products along with world-class service to allow manufacturers to maximize productivity, safety, flexibility and product quality.
Commenting on the acquisition, Rick Dalton, Managing Director at Mooreland, said, "The acquisition of Adept gives OMRON advanced robotics capability to enhance its industrial automation technology product offering. Moorelands Industrial Technology group is pleased to have participated in yet another ground breaking transaction in advanced robotics following our announcement a few months ago about the sale of Universal Robots to Teradyne."
Headquartered in Kyoto Japan, OMRON Corporation is a global leader in the field of automation based on its core technology of sensing and control. OMRONs business fields cover a broad spectrum, ranging from industrial automation and electronic components to automotive electronic components, social infrastructure systems, healthcare, and environmental solutions. Established in 1933, OMRON has about 39,000 employees worldwide, working to provide products and services in more than 110 countries and regions.
ABOUT MOORELAND PARTNERS
Founded in 2002, Mooreland Partners is a leading independent investment bank providing M&A advisory and capital raising services to the global technology industry, serving clients from its offices in Silicon Valley, Greenwich (CT), and London. Mooreland's team of nearly 50 banking professionals delivers industry domain and transaction expertise across all major technology sectors including industrial technology and electronics, enterprise software and services, communications technology, as well as mobile and digital media. Read our blog, follow us on Twitter @MoorelandGlobal or learn more at www.moorelandpartners.com.
Featured Product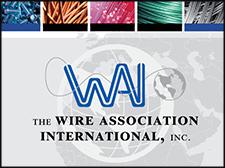 The Wire Association International (WAI), Inc., founded in 1930, is a worldwide technical society for wire and cable industry professionals. Based in Madison, Connecticut, USA, WAI collects and shares technical, manufacturing, and general business information to the ferrous, nonferrous, electrical, fiber optic, and fastener segments of the wire and cable industry. WAI hosts trade expositions, technical conferences, and educational programs.