Advanced CM-2600 Series Torque Motor Offers Choice of Integrated Encoder
Amherst, New York. : Allied Motion announced the immediate availability of their new CM-2600 series of housed brushless torque motors.

CM-2600 series torque motors are comprised of a high-performance brushless direct current motor, one of three types of optical encoder, and a precision bearing system all enclosed in a robust aluminum housing with an IP40 rating.
The CM-2600 motor is characterized by a very high torque-to-inertia ratio; it delivers rated torque of 0.189 Nm (26.8 oz-in) at a rated speed of 1125 rpm for a rated 22.3 watts of continuous power. The motor has a 19 mm (0.748 in.) inside diameter hollow stainless steel thru shaft (12.7 mm for the absolute encoder version). Peak torque is 0.69 Nm (97 oz-in) and no-load speed is 1900 rpm.
Models are available with the choice of an ultra-low distortion sine-cosine, a digital incremental encoder with up to 1.25 million counts per revolution, or an absolute 17-bit Gray code encoder.
CM-2600 series torque motors are specifically designed for direct-drive, high-resolution, high-speed positioning applications. Typical applications include optical instruments, multi-axis gimbal systems, scanners, and other direct-drive applications where use of a gearbox is undesirable.
For alternate or custom configurations contact Allied Motions Amherst, N.Y. office via phone at 716-242-7535 or email inquiry@alliedmotion.com or contact any of their Solution Center locations for design assistance.
About Allied Motion: Allied Motion Technologies Inc. is a U.S. public company focused exclusively on serving the motion control market. Allied Motion is listed on the NASDAQ Stock Market; symbol: AMOT.
We design and manufacture motor and servo motion products for the commercial, industrial and aerospace and defense markets.
Allied Motion is growing both internally and through acquisition, and we intend to be a leading worldwide supplier of technically advanced motion control products to our selected market segments.
For more information, please visit www.alliedmotion.com
Featured Product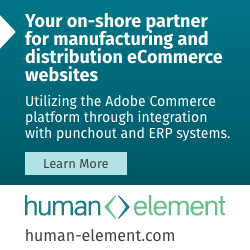 With Human Element, you will build a strategic partnership with experienced on-shore strategists and developers who understand the pain points unique to manufacturers and distributors. Using Agile methodologies and proven eCommerce website development strategies, our team positions clients for success.