The GP 6 S spindle gear is suitable for a wide variety of linear drive solutions.
The maxon GP 6 S spindle gear

The GP 6 S micro spindle gear has a diameter of six millimeters and is now also available in a metal version to provide a spindle drive with optimized value.
Spindle drives are the perfect solution for linear positioning systems, lens adjustment, or syringe pumps. If the drive also has to be compact, then maxon motor's GP 6 S spindle gear is the perfect choice. To provide a cost-effective alternative to the ceramic version, it is now also available with a metal spindle.
Combinations with maxon DC motors
The GP 6 S spindle gear is suitable for a wide variety of linear drive solutions. The maximum feed velocity is 15 mm/s, at a force of 10 N. Integrated ball bearings ensure that this drive stands up to high axial loads. The gear easily combines with the maxon DC brushed motor (RE 6) and DC brushless motor (EC 6).
More data and details about the new metal version of the GP 6 S spindle gear are available online at Maxon's website.
Featured Product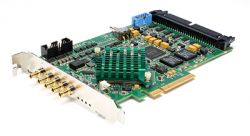 With the introduction of its Cyton and Karbon CXP frame grabbers, BitFlow has established itself as the leader in CoaXPress (CXP), a simple, yet powerful, standard for moving high speed serial data from a camera to a frame grabber. With CXP, video is captured at speeds of up to 6.25 Gigabits/Second (Gb/S). Simultaneously, control commands and triggers can be sent to the camera 20 Mb/S (with a trigger accuracy of +/- 2 nanoseconds). Up to 13 W of power can also supplied to the camera. All this happens over a single piece of industry standard 75 Ohm coaxial cable. Multiple CXP links can be aggregated to support higher data rates (e.g. four links provide 25 Gb/S of data). BitFlow CXP frame grabbers open the door to applications where cable cost, routing requirements and long distances have prevented the move to high resolution, high speed digital cameras. In many cases, existing coaxial infrastructure can be repurposed for CXP with very low installation costs.