Universal Robots exhibits at The International Dairy Show - First exhibitor ever to introduce collaborative robots at the Chicago show September 15-18. The Danish pioneer of collaborative robots is now reaching out to the dairy markets with lightweight, easy-to-use robotic arms.
East Setauket, NY, September 9, 2015: A new breed of robots is addressing the dairy market, lowering the automation barrier by offering unrivaled performance vs. affordability. Unlike traditional industrial robots that are complex to program and usually stay hardwired in a cage, fenced off from humans, the collaborative Universal Robots are portable, easy to use and able to work right next to employees, in many cases with no safety guarding. The UR robots are already making fast inroads in dairy applications ranging from the milking process to the packaging of finished products.

Scott Mabie, General Manager of Universal Robots America Division, looks forward to introducing the collaborative robot arms to the International Dairy Show audience:
"I see agriculture and dairy as our next robot frontier. Were already firmly positioned within many manufacturing industries such as metal and machining, electronics, and automotive but the benefits offered by the UR robots - optimized production, increased competiveness, and the freeing up of labor for more challenging tasks - really applies to any industry. Im excited to introduce the dairy sector to the ways our robots can make a difference in dairy production and packaging along the entire journey from farm to refrigerator."
Attendees at The Dairy Show in Chicago can try programming the user-friendly UR robots at Universal Robots booth #7364, September 15-18, 2015.
"The out-of-box experience" with a collaborative UR robot is typically less than an hour. Thats the time it takes an untrained operator to unpack the robot, mount it, and program the first simple tasks. Programming is intuitive and can be done by simply grabbing the robot arm to show it the desired movement or by using the arrow keys on the touch screen.
GNE Farm Equipment from is using the UR robots worldwide to reduce the labor cost of milking cows :
"A dairy man with no prior programming experience can operate a UR robot by using the simple point and click system. No other robot on the market is currently able to offer this ease of use system. Since no specialists are needed for operation, the UR robots results in a faster payback. With the available bank lease programs there is no money out of pocket for the dairy man," says owner of GNE Farm Equipment, Gerard Niessink.
A Universal Robot can interface seamlessly with external machinery. At Orkla Foods in Sweden, the robot works independently packing vanilla cream bags into cartons but is part of a network with a carton erector, a carton sealer and is fed by a filling machine.
The payback period for the UR10 robot installed at Orkla was only six months - which is not unusual, the average ROI for a Universal Robot is 195 days, the fastest payback in the industry.
"An important requirement was that the robot had to work flawlessly so that we would not need supervision or extra support for it to work. It would also be a major advantage if it did not require safety guarding around it and could work safely alongside our employees", says Johan Linné, Site Manager at Orkla Food.
"We have got a more economic and stable operation and we are now looking into whether there are other applications where we can use this type of robot".
Innovative force-sensing technology enables the UR robot to stop operating if it comes into contact with an employee. Eighty percent of the thousands of UR robots worldwide operate with no safety guarding (after risk assessment), right beside human operators.
This is also the case at Cascina Italia that processes millions of eggs per day. By using a UR5 robot in their production facilities the Italian company has improved flexibility and operational efficiency. The collaborative robot relieves employees from the strenuous process of preparing bulky packages for large-scale distribution. The added benefit of the UR5s fenceless-operation allows the robot to work side-by-side with employees on the production lines.
"It was important for us to be able to install the robot in quite space-limited areas. To retain full flexibility we need to be able to react to the demands of the market, which starting from four sizes of eggs picked based on their weight, allows us to produce more than 220 commercial options in different formats, depending on the type of packaging required, " said Ruggero Moretti, Facility Manager of Cascina Italia.
"We are convinced that the collaborative robot solution is extremely useful for facilities like ours that have constraints on flexibility, available space and budgets for investment, which make traditional robotic solutions difficult to implement. The results obtained so far are excellent, so much so that we expect return on our initial investment in less than a year, with the additional advantage of having further refined and improved the quality of our packaging processes."
About Universal Robots
Universal Robots is a result of many years of intensive research in robotics. The product portfolio includes the collaborative UR3, UR5 and UR10 robot arms named after their payloads in kilos.
Since the first UR robot entered the market in December 2008, the company has seen substantial growth with the user-friendly robots now being sold in more than 50 countries worldwide. Average payback period for UR robots is the fastest in the industry with only 195 days. The company is headquartered in Odense, Denmark, where all development and production is carried out. www.universal-robots.com
Featured Product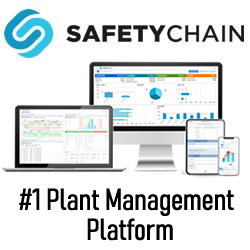 SafetyChain is the #1 Plant Management Platform that improves yield, maximizes productivity, and ensures compliance for process manufacturers. Trusted by over 1,500 facilities, SafetyChain is the only enterprise solution uniting production, quality, safety, and supplier management.