Midwest Engineered Systems Inc. will be exhibiting at the 3M Automation Technology Expo on October 13, 2015.
Midwest Engineered Systems Inc., an innovative provider of premier custom machines and integrated systems, is proud to announce that they will be exhibiting at the 3M Automation Technology EXPO.

On Tuesday, October 13, 2015, approximately 32 suppliers will showcase their industry expertise in the areas of robotics, ultrasonic welding, design and build, build to print, feeding, and packaging. The show will be held near the 3M Center in St. Paul and will only be open to 3M employees.
The 3M Automation Technology EXPO is designed to bring awareness to technologies, suppliers, and processes for assembly automation. The show was proposed after a 3M special interest group, the Automated Assembly Engineering Technology Chapter, noticed a need for a better understanding of the marketplaces availability for this industry.
Midwest Engineered Systems will be displaying its vast capabilities in automated assembly lines, packaging systems, palletizing/depalletizing, and full production line solutions.
About Midwest Engineered Systems
Midwest Engineered Systems Inc. is committed to providing simple solutions to complex automation problems. Our engineering staff has technical expertise that includes a diverse knowledge base, building thousands of custom automation systems over the last 24 years.
For more company information and news visit: http://www.mwes.com/blog
Midwest Engineering Systems Inc. has been providing high-quality custom machine design and automation solutions since 1991.
Featured Product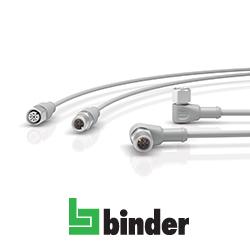 binder USA, LP, has expanded the M12 product family with the addition of the M12 A-Coded Connector, which is now certified for both Ecolab and FDA Code of Federal Regulations (CFR) Title 21 standards. The M12 A-Coded connectors are extraordinarily durable and IP69K-rated, ideal for harsh-duty and washdown applications in the food and beverage, pharmaceutical, and chemical industries. Available in 3, 4, 5, 8, and 12 contacts, the high quality stainless steel locking rings (V4A) and gold contact plating can also withstand UV exposure and shock and vibration.