The Company lacks adequate working capital, because of a default by a significant lender.
FLORHAM PARK, N.J., Aug. 19, 2015 -- Boomerang Systems, Inc. (OTCQB: BMER, the "Company"), the innovator of the revolutionary RoboticValet automated parking system, today announced that it is seeking a financial restructuring by the voluntary filing of a petition under Chapter 11 of the United States Bankruptcy Code in the United States Bankruptcy Court for the District of Delaware (the "Court"). The Company lacks adequate working capital, because of a default by a significant lender.

As part of its filings with the Court, the Company is seeking approval of post-petition financing from a group of the Company's existing senior secured note holders that have committed to finance the Company's restructuring. "Boomerang will not be discouraged by this event, and we are grateful for the strong and consistent support from our investor base. While we are obviously disappointed, our management team is highly motivated to develop and execute a plan of reorganization that will allow us to emerge in a stronger state and better able to serve our customers. We deeply regret the uncertainty and short-term impact on customers and employees," said the Company's CEO, James Gelly.
The Company has retained the services of the law firms Togut, Segal & Segal LLP and Ciardi, Ciardi & Astin to represent it in its chapter 11 case. In addition, the Company has retained the law firm Berg & Androphy, which filed a lawsuit on August 18th, 2015 in the Southern District of New York against the Company's defaulting lender.
Featured Product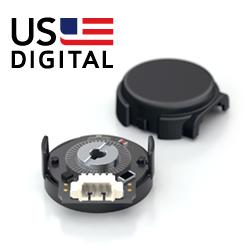 US Digital is pleased to announce the launch of the E4T, their latest series of miniature high performance optical encoders. The E4T series delivers a marked performance increase over similar encoder models and designed to be an enhanced replacement for the E4P encoder series. The E4T utilizes state of the art transmissive optical sensing technology, and incorporates US Digital's own proprietary OptoASIC. Assembly of the E4T is simple and efficient and retains the previous E4P's form factor. Key features of the new E4T include: • Mechanically and Electrically Interchangeable with E4P • Improved Quadrature Signal Strength • 100 kHz Frequency Response • Transmissive Optical Design • Collet Style Push on Optical Disk Design (Patent Pending) • Simple & Efficient Assembly Process As with all of our products the E4T is designed and manufactured in their Vancouver, Washington USA facility and is available for purchase as of December 2014.