Intel RealSense Camera Now Accessible to Robot Operating System (ROS) Developers
SAN FRANCISCO & SANTA CLARA, Calif.--During Intel CEO Brian Krzanichs opening keynote at the Intel Developer Forum today, Savioke announced it is making the Intel RealSense Camera more accessible to the worldwide robotics community by developing a wrapper for the Robot Operating System (ROS). The wrapper will allow developers to make use of the longer range Intel RealSense Camera, which is ideal for sensing the environment.

The Robot Operating System is a set of open source software libraries and tools that has become the world's leading robot OS. ROS lies at the heart of thousands of robots worldwide, including Savioke's Relay robot. ROS code is maintained by the Open Source Robotics Foundation.
During Mr. Krzanich's keynote he was visited on stage by Relay, a robot already utilizing Intel RealSense Cameras, stating: "Today I am announcing RealSense support for ROS."
"Intel RealSense Cameras bring great low-cost depth sensing to robotics, in a platform that is widely available and easy to integrate using ROS," according to Steve Cousins, CEO of Savioke.
"This is a much-needed peripheral for the robotics industry and we are looking forward to seeing the implications of an advanced, low-cost camera on the global robotics community when this device becomes generally available," according to Brian Gerkey, CEO of Open Source Robotics Foundation.
A fleet of Relay robots, all using Intel RealSense Cameras, are on site during the course of the Intel Developer Forum. Relay is a state-of-the-art robot designed for autonomous delivery of items between people. His first application is in the hospitality industry, already delivering items and delighting guests at Starwood and InterContinental Group hotels.
Availability:
The ROS wrapper for Intel RealSense technology is now running on Savioke's Relay robots with general availability of the software expected in the coming months and accessible via http://www.ros.org.
About Savioke
Savioke (pronounced "savvy oak") is creating autonomous robots for the services industry. Savioke aims to improve the lives of people by developing and deploying robotic technology in human environments. Savioke was founded in 2013 and is headquartered in Santa Clara, CA. For more information, please visit http://www.savioke.com, or follow the company @Savioke
Featured Product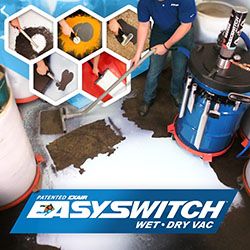 Intellistat Ion Air Gun produces ionized compressed air to neutralize static and remove troublesome particulates during clean processes, test procedures and sensitive assembly work. This new Ion Air Gun is ideal for sterile environments. Learn more about our special on Intellistat Ion Air Gun at https://exair.co/184-sepromo