The students from the University of Sheffield's Department of Mechanical Engineering make up the Sheffield Formula Racing (SFR) team, who are entering this year's car - the SFR6, into the annual Institute of Mechanical Engineers' (IMechE) Formula Student competition.
The University of Sheffield Advanced Manufacturing Research Centre (AMRC) with Boeing lent a hand to 35 students designing and manufacturing a single seat-racing car capable of accelerating from 0-60 mph in under five seconds.

The students from the University of Sheffields Department of Mechanical Engineering make up the Sheffield Formula Racing (SFR) team, who are entering this years car - the SFR6, into the annual Institute of Mechanical Engineers (IMechE) Formula Student competition. The annual motorsport competition is backed by industry and aims to inspire and develop young engineers from around the world.
SFR6 was launched at the AMRCs Design Prototyping and Testing Centre after members of the AMRCs Integrated Manufacturing Group (IMG) volunteered their time outside of normal working hours to help advise SFR on new methods of design and manufacture.
Team Principal, Thomas Bloomfield told delegates at the launch he felt the car had come on in leaps and bounds during his four years with the team.
Thomas said: "Entering Formula Student is the opportunity to develop our real-world skills and employability, gaining hands on experience so we can prove we are industry-ready students."
"This year we wanted to reduce the weight and bulk of the car whilst increasing its strength. It was an ideal opportunity to showcase the new technologies being developed by the AMRC."
"We have printed 17 components in titanium and polymers using additive manufacturing and for the first time we used robotic machining to mill down tooling blocks to create body panel moulds for composite materials to be laid up in."
IMG Project Manager, Chris Greaves said: "We were able to assist the team by using robotic machining techniques we have developed to produce five body panel moulds for the car. Three were produced using our ABB robotic machining cell, which was programed using Robotmaster and Mastercam, and two on our Mazak VTC800/30SR machining centre."
"It also gave our apprentices based at the AMRC Training Centre the opportunity to carry out some basic machining tasks for the team, giving them hands on experience with producing real components."
The launch at the AMRC was an opportunity for the students to strengthen links between industry and academia; showcasing what they had achieved together with the University, the AMRC and their team sponsors, high profile engineering companies such as Meggitt and Unipart.
The four-day Formula Student competition will take place at Silverstone Circuit between 9-12 July and 100 teams of students from all over the world will compete. The team are hoping for a top 20 finish which would see them rank amongst the UK top five teams.
About the Advanced Manufacturing Research Centre
The University of Sheffield Advanced Manufacturing Research Centre (AMRC) with Boeing is a world-class centre for advanced machining and materials research for aerospace and other high-value manufacturing sectors. It is a partnership between industry and academia, which has become a model for research centres worldwide.
Researchers work with individual companies on specific projects, and collaborate on generic projects for the benefit of all members. Over 70 companies have signed up as members of the AMRC with Boeing, and the centre has worked with many hundreds of other companies on specific projects.
The AMRC with Boeing is part of the High Value Manufacturing Catapult, a consortium of seven manufacturing and process research centres backed by UK government. Founded in 2001, the AMRC with Boeing is now just part of the University of Sheffield AMRC, a cluster of industry-focused manufacturing R&D centres and supporting facilities including the Nuclear AMRC and new AMRC Training Centre.
The AMRC is supported by the European Regional Development Fund.
For more information on the AMRC, please visit: http://www.amrc.co.uk/
About Robotmaster
Robotmaster seamlessly integrates CAD/CAM based robot programming, simulation and program generation. Common robot programming challenges typically require intricate user intervention or costly manual editing for producing error-free programs. Robotmaster provides innovative tools to effortlessly optimize robot programs producing error-free robot paths, avoiding singularity zones and collisions, working around joint and reach limitations, and optimizing tool orientations along the entire trajectory. Furthermore, Robotmaster is ideally suited to program robots for such tasks as trimming, de-burring, polishing, welding, dispensing, grinding, spraying, painting and 3D machining, while supporting most industrial robot brands.
About Jabez Technologies
Jabez Technologies provides robot programming technologies that enable versatile and profitable robotic solutions for industrial manufacturing applications. Robotmaster is the flagship product of Jabez Technologies, specializing in robot programming technologies for robotics automation and manufacturing since 1996.
Featured Product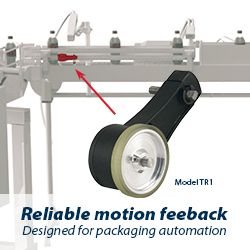 The Model TR1 Tru-Trac™ linear measurement solution is a versatile option for tracking velocity, position, or distance over a wide variety of surfaces. An integrated encoder, measuring wheel, and spring-loaded torsion arm in one, compact unit, the Model TR1 is easy to install. The spring-loaded torsion arm offers adjustable torsion load, allowing the Model TR1 to be mounted in almost any orientation - even upside-down. The threaded shaft on the pivot axis is field reversible, providing mounting access from either side. With operating speeds up to 3000 feet per minute, a wide variety of configuration options - including multiple wheel material options - and a housing made from a durable, conductive composite material that minimizes static buildup, the Model TR1 Tru-Trac™ is the ideal solution for countless applications.