Japans Largest Consumer Electronics Show, October 7-10, 2015
(New York, NY - June 23, 2015) - MecklerMedia Corporation announced its partnership with CEATEC (Combined Exhibition of Advanced Technologies) to produce 3DPrinting@home powered by Inside 3D Printing and Robot@home powered by RoboUniverse at the Makuhari Messe Convention Center in Tokyo on October 7-10, 2015.

Launched in 2000, CEATEC JAPAN has become the largest annual consumer electronics and IT exhibition in Japan. CEATEC brings together leading companies in advanced technologies and electronics where they can present the latest developments to the world. CEATEC attracts over 550 exhibitors and over 150,000 attendees.
CEATEC and MecklerMedia have joined forces to present 3DPrinting@home and Robot@home. This exhibition will feature the latest innovations, advancements, and technologies in 3D printing and robotics, and will show how these technologies are revolutionizing industries and making consumers lives easier around the globe.
"We are pleased to have been selected by CEATEC, Japans largest consumer electronics show, to curate an exhibition that brings together 3D printing and robotics innovators and trail blazers who are moving the industries forward," says Alan Meckler, Chairman and CEO, MecklerMedia.
If your company is interested in sponsoring or exhibiting at 3DPrinting@home at CEATEC or an upcoming Inside 3D Printing event, please contact 3dprinting.sponsors@mecklermedia.com.
If your company is interested in sponsoring or exhibiting at Robot@home at CEATEC or an upcoming RoboUniverse event, please contact robouniverse.sponsors@mecklermedia.com.
About MecklerMedia:
MecklerMedia (OTCQX: MECK) is the leading producer of global trade shows, conferences, and digital publications covering 3D printing, robotics, and bitcoin/blockchain. MecklerMedia produces more than 25 conferences annually, including Inside 3D Printing, Inside Bitcoins, RoboUniverse, and the 3D Print Design Show. MecklerMedias news sites include Inside Bitcoins News and 3D Printing Industry, which provide up-to-date coverage to help drive business forward.
For press inquiries, please contact press@mecklermedia.com.
Featured Product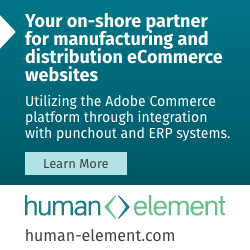 With Human Element, you will build a strategic partnership with experienced on-shore strategists and developers who understand the pain points unique to manufacturers and distributors. Using Agile methodologies and proven eCommerce website development strategies, our team positions clients for success.