World's largest embedded technology conference and exhibition Is "Asia's vortex of embedded innovation."
Yokohama, Japan June 22, 2015

Japan Embedded Systems Technology Association (JASA) with the participation of industry leaders in Japan will be holding its annual Embedded Technology Conference and Exhibition (ET2015) in Yokohama, Japan, November 18 through 20, 2015. Last year, approximately 22,000+ registered attendees visited ET2014, the largest embedded technology event in the world. The event offers suppliers a cost-effective and efficient exhibition - opening a window to Japan and Asia markets for embedded products and services. Special turnkey booth and support services are offered for emerging ventures and startups.
Starting in 2015, Embedded Technology will co-locate with a new event called Internet of Things Technology (IoT Technology). ET brings the synergy of the two exhibitions under one roof. The expanded venue enhances the participation benefits of both the attendees and the exhibitors to promote products to SoC and system level designers in Japan and Asia.
Featuring a comprehensive technical program, including in-depth tutorials and tomorrow's application themes, ET2015 provides a unique opportunity for design engineers and managers to grasp the advanced techniques that address programming and real-time design challenges. Attendees will be able to test the latest embedded hardware, semiconductors/integrated circuits, design tools, middleware, and many other products from more than 350 exhibitors (750+ booths), including Intel, Microsoft, ARM, Texas Instruments, NEC, Panasonic, STMicroelectronics, Altera, Xilinx, Fujitsu, Toshiba, NXP, among others that were ET2014 exhibitors.
ET 2015's 100+ conference sessions will be attended by more than 10,000 registered attendees. The sessions will address today's hottest design topics, including multicore processors, FPGA, the Android platform, smart energy technologies, dependable systems, formal verification, real-time design and testing strategies and tools for complex embedded systems. The sessions will enable design engineers to obtain the latest embedded know-how needed to create state-of-the-art design solutions.
ET2015 will spotlight hot applications in Japan covering digital consumer, automotive electronics, ubiquitous computing/communication, factory automation/robotics and Internet of Things (IoT) developments. The emergence of advanced processors, better development tools, and high-speed Internet access has created a plethora of opportunities for consumer electronics products that combine audio and video technologies.
A turnkey booth package is available for both 1-unit (3x3m) booth and 2-unit (3x6m) booth configurations. The cost for a basic 1-booth set up is 108,000 yen (tax included). A two-unit turnkey booth is also available. Turnkey booths includes basic carpet/flooring, lights/furnishings and electrical. The turnkey booth is set up for exhibitors...just have to add your signs, brochures and other items you wish to bring.
Registration for attendees is free with pre-registration. ET2015 is offering conference exhibitors attractive booth packages and an array of optional services. Exhibitors can take advantage of special services, such as turnkey booths, suite rooms, workshops, open-stage presentations, show promotions, and the Venture Village Pavilion. For details on exhibiting at this premiere event, visit http://www.embeddedtech.net or contact Steve Szirom: Tel: (360) 676-2260; E-mail: steves(at)insidechips(dot)com, the North American exhibitor representative for this event'
Featured Product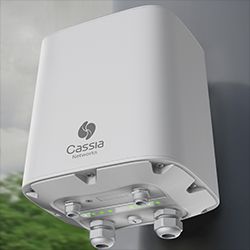 Cassia works with smart IIoT equipment manufacturers to help them overcome their challenges and to provide the competitive edge they need to reach their business goals. We provide companies in various IIoT sectors with a comprehensive suite of enterprise Bluetooth IoT products and solutions they need to enable smart IIoT solutions such as Condition Monitoring, Predictive Maintenance as well as Personnel and Asset Tracking solutions. Cassia's long-range Bluetooth gateways are uniquely designed for today's Industrial IoT enterprises to provide the scalability, flexibility and ease of deployment needed to reduce costs and achieve greater ROI.