Pioneer in Robotics for Logistics and Material Handling in High Demand From Warehouse and Fulfillment Centers
SAN JOSE, Calif.--Fetch Robotics announced today that it has raised $20 million in Series A funding. The round was led by SB Group US, Inc. ("SoftBank") and also included additional funding from seed investors O'Reilly AlphaTech Ventures and Shasta Ventures. The Series A round brings Fetch's total funding to date to $23 million. The new capital will be used to expand Fetch's sales and marketing operations and to meet accelerating demand from warehouses and fulfillment centers.

In addition, SoftBank's Kabir Misra will be added to Fetch Robotics board of directors. He will join existing board members Bryce Roberts from O'Reilly AlphaTech Ventures, Rob Coneybeer from Shasta Ventures, Steve Hogan from Tech-Rx, and Fetch Robotics CEO Melonee Wise.
Unveiled in April of this year, the Fetch Robotics system is comprised of a mobile base (called Freight) and an advanced mobile manipulator (called Fetch). Fetch and Freight use a charging dock for autonomous continuous operations, allowing the robots to charge when needed and then continue on with their tasks. In addition, the system includes accompanying software to support the robots and integrate with the warehouse environment. The robots are designed to work independently alongside human workers, performing repetitive tasks such as warehouse delivery, pick and pack, and more.
According to Material Handling & Logistics U.S. Roadmap, "The demand for shorter lead times has become an imperative for inbound logistics in support of production, with the proliferation of lean and just-in-time operations. However, this is also a competitive advantage for business-to-consumer (B2C) delivery, as the growth of Amazon Prime is proving."
Furthermore, according to a recent ARC Advisory Group market study, Warehouse Automation and Control, "E-commerce and its profound effects on fulfillment requirements is stimulating widespread growth in warehouse automation and control system sales."
"As businesses look for solutions to streamline operations and meet the needs of an on-demand economy, we see a tremendous opportunity for robotics to solve that problem," says Kabir Misra, Managing Director at SB Group US, Inc. "The team, the robots, and the timing all lead us to Fetch Robotics and we are happy to join them in bringing Fetch and Freight to market."
"I'm delighted to have SoftBank join the team and help us change the world of logistics and material handling," said Melonee Wise, CEO of Fetch Robotics. "SoftBank's expertise and worldwide resources with respect to technology, production, distribution and more will be a big help to our growing organization."
About Fetch Robotics
Fetch Robotics builds robot systems for the logistics industry. The company was founded in 2014 and is headquartered in San Jose, CA. For more information, please visit http://www.fetchrobotics.comor follow the company on Twitter @FetchRobotics.
Featured Product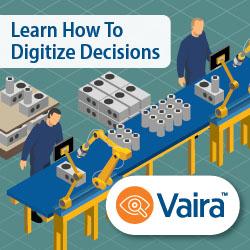 Pleora's Visual Inspection System helps operators detect errors and defects for unique component types, assembly steps, and custom low-run products where automated optical inspection (AOI) is too complex and expensive. The system helps DICA Electronics: Avoid costly, errors as a result of detecting errors at different phases in production, Speed time in detecting the root cause of the in-field errors with Tracking & Reporting apps for traceability, Maintain consistency in training new employees on requirements or with staff any time a new product is added, Easily train the system using 'good product' images for multiple product lines with no programming skills required, Reduce subjective decision-making, especially over a long shift, reducing error-escapes.