Streamlined, simplified BitFlow software extension eliminates integration steps
WOBURN, MA, JUNE 4, 2015 -- BitFlow, the world's leading innovator of frame grabbers for machine vision and scientific imaging, has partnered with NVIDIA (Nasdaq: NVDA), a pioneer in the art of visual computing, to co-develop a new software extension that fully leverages the power of NVIDIA GPUDirect for Video (DVP) technology with BitFlow Cyton, Alta, Neon, Karbon and Axion frame grabbers.

The result of this first ever collaboration is the BitFlow Direct-for-Video Protocol (BFDVP), a deep wrapper of NVIDIA DVP that enables very simple integration of the BitFlow Buffer Interface acquisition API (BiAPI) with NVIDIA GPUs. The BFDVP achieves zero CPU use, real-time video imaging by eliminating the delay in getting video into and out of NVIDIA GPUs. This delay is caused by the need to use the CPU to copy images from frame grabber buffers to GPU buffers.
"BFDVP enables BitFlow frame grabbers to communicate directly and openly with NVIDIA GPUs, meaning that issues of CPU usage and latencies are eliminated and real-time imaging is now a reality," explained Donal Waide, Director of Sales for BitFlow, Inc. "Vision system developers are now able to harness the graphics and image processing power of NVIDIA GPUs without the long latencies, often as high as ten frames, previously associated when integrated with 3rd party frame grabbers."
Being generic, NVIDIA GPU Direct for Video technology requires complex programming and proprietary libraries to integrate with an application. However, with the streamlined BFDVP from BitFlow the user can focus more readily on the two most important features of a frame grabber-GPU processing system: acquisition and processing.
"BFDVP minimizes CPU overhead because it handles the bulk of the management of the data transfer between the devices," said Waide. "BFDVP fully synchronizes transfers so it does away with the waste cycles of copying data between device driver buffers and lets BitFlow frame grabbers stream video to and from the NVIDIA GPU at sub-frame transfer times."
NVIDIA GPUDirect for Video is the fastest, most deterministic way to get video data in and out of the GPU. Learn more at www.developer.nvidia.com/nvidia-gpudirect
For a free download of BitFlow Direct-for-Video, visit www.bitflow.com.
Featured Product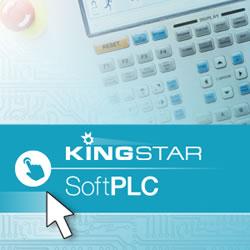 The top machine builders are switching from proprietary hardware-based PLCs, like Allen-Bradley, TwinCAT, Mitsubishi and KEYENCE, to open standards-based EtherCAT-enabled software PLCs on IPCs. KINGSTAR provides a fully-featured and integrated software PLC based on an open and accessible RTOS. KINGSTAR Soft PLC also includes add-on or third-party components for motion control and machine vision that are managed by a rich user interface for C++ programmers and non-developers alike.