KUKA's concept for the new Bell 525 is a major departure in assembling rotary-wing aircraft.
STERLING HEIGHTS, MI, and AUGSBURG, Germany, May 7, 2015 — KUKA Systems Aerospace has received the American Helicopter Society International's Supplier Excellence Award for its new assembly concept that will be used in building Bell Helicopter's 525 Relentless. The award, presented at the charity's annual awards banquet last night in Virginia Beach, VA, is given each year to a supplier "which through the quality of, innovativeness and cost-effectiveness of its products, has made a notable contribution to the vertical flight industry."

"We accept this honor with great pride and with gratitude for the support of a tremendous partner in Bell, which recognized the value in our concept and placed its faith in us," says Robert Reno, Group Vice President, KUKA Systems Aerospace.
KUKA's concept for the new Bell 525 is a major departure in assembling rotary-wing aircraft. Working in collaboration with Bell's engineering staff, the KUKA process engineering team developed a palletized process based on the industrial assembly line principle. The main aircraft is built up in a major fixture, which moves along the assembly stations. Ancillary tooling is added or removed from that fixture to allow different work tasks to be performed at each station.
The traditional assembly method would be to build up each component in a dedicated fixture and when a specific task is completed, remove that component and put it into another fixture to build it further. The result is a progressive buildup of each major section of the aircraft, but with many uncontrolled variations and tolerance issues in each one. The final mating of components and sections usually requires significant ad hoc adjustments to force out-of-contour or misaligned components into place. That's typical throughout the aerospace industry.
Palletized assembly offers many advantages over that traditional process, most notably an improvement in overall quality. The process promotes specialization and repeatability. Results tend to be more precise with less variability. The mating of components and ultimately entire sections is simplified. Everything tends to fit the first time, requiring fewer ad hoc adjustments. The result is a smoother, faster flow, with more efficient use of manpower.
KUKA is manufacturing all tooling for the forward, mid and aft fuselage as well as all tooling for the tailboom, engines and transmission and mating of all major structures on the 525 Relentless. Bell is offering the 525 for a wide range of non-military missions requiring a super medium to light heavy class helicopter.
ABOUT KUKA SYSTEMS:
KUKA Systems, part of Germany-based KUKA AG, is an international supplier of engineering services and flexible automation systems for the Automotive, Aerospace, Energy, and Industrial Solutions segments. Some 5,800 employees worldwide work on ideas, concepts and solutions for automated production and the provision of products and services for virtually all tasks in the industrial processing of metallic and non-metallic materials. The range is marketed internationally via subsidiaries and sales offices in Europe, America and Asia. KUKA Systems had sales revenues of 1.28 billion euros for the 2014 business year. KUKA Systems North America LLC, based in Sterling Heights MI, is responsible for the North American business and the worldwide aerospace group. The KUKA Systems Aerospace Group focuses on all aspects of tooling and assembly processes for aircraft manufacturing.
Featured Product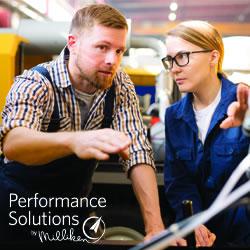 Performance Solutions by Milliken is a dedicated consulting and training group that helps guide businesses toward success. From supply chain, to operations and safety, we're dedicated to developing sustainable results for our clients through the implementation of a holistic operating system. We believe engaging all associates in the process will systematically transform your company to create efficiency, uncover hidden capacity, and generate long-term gains. Are you ready to reinvent your operations and transform your organization? Let's get started.