This market research report covers all the market aspects along with in-depth information about the drivers, restraints, and future market opportunities. The report also provides an insight into the various parameters of the service robotics market such as value chain analysis, market share analysis, new product developments, joint ventures and partnerships, collaboration, and recent market activities by the key players in the market.
Robotics is a rapidly developing field with extremely high potential for growth, jobs, and solving social challenges. The service robotics technology is projected to result in the future human assistant. The service robotics market deals with the development of robotic technology that assists humans in performing their tasks effectively and efficiently. Service robots assist human beings in various professional and personal tasks.

The market has witnessed many recent advances in mobility, perception, and algorithm that enable service robots to perform routine tasks with a high degree of accuracy. The report includes the analysis of all this essential information, in addition to the recent developments in technology. It segments the service robotics market on the basis of types and geography.
The report also includes an analysis of the service robotics market based on the Porters Five Forces analysis and many other micro and macro factors required to analyze the market players.
Overview of the service robotics market
Service robots are designed with a rich blend of technology and advanced science. According to the International Federation of Robotics, a service robot can perform services useful to the wellbeing of humans and equipment, excluding any manufacturing or industrial operations. These robots are machines with semi or fully automatic functions capable of performing a job that is repetitive, dangerous, dirty, or tedious. As service robots help perform tough or risky tasks, they find use in various applications.
Some of the major applications analyzed in this study report are aerospace, medical, healthcare, defense, and security and surveillance. The service robotics market is expected to rapidly expand in the field of medical applications in the next four year. Service robots are often used by surgeons for various search and rescue operations, and hence are more popular in the medical field. These robots are also used in many other applications such as freight transport, forestry, agriculture, cleaning, and demolition.
Service robots offer high accuracy in operation. They are in close proximity to humans, ensuring absolute security and safety of the person. The service robotics market is also treated as an unlimited knowledge base in the world of computers. Service robots have the ability to coordinate their activities with external devices and systems for computing and communication purposes.
Some of the major factors driving this market are growing venture capital investments and integration of service robotic technology with other mobile technologies and smart products. Globally, a number of companies dealing with robotic technology have been developing automation techniques to gain a larger market share in the overall market.
Companies mentioned in the research report
Some of the top players profiled in the service robotics market are Fujitsu Ltd., Yujin Robot Co. Ltd., Honda Motors Co. Ltd., GeckoSystems Intl. Corp., iRobot Corp., Toyota Motor Corp., Samsung Electronics, AB Electrolux, Sony Corp., and Hanool Robotics Corp.
Featured Product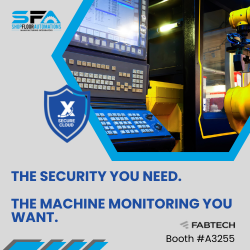 For manufacturers adhering to regulations like International Traffic in Arms (ITAR), Defense Federal Acquisition Regulation Supplement (DFARS) and other security and compliance requirements, the ability to monitor disparate machines, each with a unique control system and communication protocol with varying ages, can make continuous improvement initiatives challenging in the cloud. The Scytec DataXchange solution, available through Shop Floor Automations, resolves these issues by leveraging AWS GovCloud to capture real-time, Industrial Internet of Things (IIoT) data from a variety of equipment - from lasers and press brakes, to saws and robots - through universal machine connections to give teams full transparency on the shop floor through an architected secure cloud solution for a total smart factory transformation.