NEXCOM's latest industrial Access Point, IWF 300, can easily spread Wi-Fi networks out to entire factories, warehouses, and industrial facilities demanding Internet connection.
Fremont, CA April 30, 2015

NEXCOMs recently launched industrial Wi-Fi Access Point (AP) IWF 300 is designed to simplify the deployment of small size indoor wireless networks in factories, allowing field data to fly to the cloud. Featuring mesh function, high bandwidth, strong signal strength, and a wide temperature range, the IWF 300 can easily spread out Wi-Fi networks to the entire factory, warehouse, and industrial facility demanding Internet connection.
To weave a resilient network for indoor environments, the industrial Wi-Fi AP IWF 300 is built with mesh networking function with support for four hops. By connecting neighboring APs wirelessly, the IWF 300 provides a cost-effective, easy solution for expanding Wi-Fi coverage to the whole factory. Meanwhile, the IWF 300 ensures uninterrupted data transmission and transmission efficiency by sending data through an optimal route based on path availability and transmission distance. Forklifts, automated guided vehicles (AGVs), and other moving objects going below 30 MPH can all connect to the IWF 300 when cruising through factories without the concern of being blocked from networks.
The IWF 300 provides a Wi-Fi connection faster than 1 Gbps. It has dual radio frequencies—one conforms to the 802.11ac standard with backward compliance with 802.11a/n, while the other follows 802.11a/b/g/n. Combining 2x2 MIMO technology, the IWF 300 offers high data rate required of bandwidth-hungry applications. Also, the industrial Wi-Fi AP supports Quality of Service (QoS) with implementation of minimum bandwidth guarantee, helping users prioritize data, audio, and video traffic.
For added network reliability, the IWF 300 beams high-power Wi-Fi signals of up to 27dBm. The signals are so strong that they can penetrate factory walls and warehouse racks. It can also carry meter readings, work orders, and inventory updates to a factory network from places where wired LAN is not an option.
Designed for industrial applications and extensive uses ranging from industrial cold storage warehouses to steel mills, the IWF 300 has an extended operating temperature range of -40°C to 80°C. For the deployment of large scale Wi-Fi network, the NEXCOM industrial Wi-Fi controller IWF 800, which can manage up to fifty units of IWF 300, will be released soon.
About NEXCOM: Founded in 1992, NEXCOM integrates its capabilities and operates six global businesses, which are Multi-Media Solutions, Mobile Computing Solutions, IoT Automation Solutions, Network and Communication Solutions, Intelligent Digital Security, and Medical and Healthcare Informatics. NEXCOM serves its customers worldwide through its subsidiaries in five major industrial countries. Under the IoT megatrend, NEXCOM expands its offerings with solutions in emerging applications including IoT, robot, connected cars, Industry 4.0, and industrial security.
Featured Product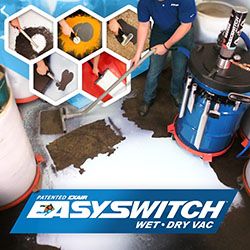 Be sure to attend the latest of EXAIR's webinars. Get educated on pneumatic industrial vacuums so you can break the cycle of replacing electric shop vacuums. Industrial environments often present a continual battle to keep them clean and safe. Unavoidable by-products of manufacturing processes include liquid and solids which often present hazards to personnel, products and processes. Solids may be trim, dusts, or chips from a manufacturing line; liquids may be coolant spills, coating overspray, or even burst packages. Cleaning up these materials often falls on the operators of the equipment who need reliable, adaptable, safe and effective tools for cleanup. Supplying them with tools which fail frequently or do not meet the requirements of the safety team is a recipe for disaster. Attend this webinar to gain an understanding of how pneumatic vacuums can reduce the maintenance, increase reliability, and improve flexibility for your facility. Attend live on May 24th at 2 p.m.