Neya Systems, LLC is pleased to announce a cost-free Community License of its UxSD for UCS Software Developers Kit.
WEXFORD, Pa., April 29, 2015 -- Neya Systems is making available a cost-free Community License version of UxSDK for UCS (http://neyasystems.com/products/uxsdk-new-2/), its Software Developer Kit for the Department of Defense UCS Architecture and UCS Repository. The SDK offers a validated UCS Developer Library and automated interface code generation tools to lower barrier to entry, improve conformance and code testing, increase code portability, and enable custom expansions.

Neya Systems, LLC is pleased to announce a cost-free Community License of its UxSDK for UCS Software Developers Kit. The SDK is in use by a variety of commercial and government customers, to support software development with the UCS Architecture. Neya, which has played a leading role in the development of the UCS Architecture, is providing this SDK to encourage further adoption of the standard, and reduce the cost of UCS integration.
UxSDK for UCS supports C++ and Java software generation to a variety of commercial DDS implementations. This greatly increases code portability, as the application developer only has one API to deal with, while being able to leverage multiple middleware layers. Power users have access to the core internals of the middleware, in order to take advantage of vendor-specific features and capabilities.
The SDK core features include:
* Full support for UCS R3.4 Service Descriptions and ICD
* Support for RTI, PrismTech, and Twin Oaks DDS
* Support for Java and C++ Code Generation
* Easy-to-use User Interface (UI) and documentation
* Linux and Windows environments (for generated code)
In addition to simplifying the deployment of UCS within legacy systems, the SDK supports the goals of Better Buying Power 3.0 by not requiring runtime royalties or licensing. Our Community License version is provided to US Industry and the Government on a per-project basis, after which all run-time generated UCS code is completely unrestricted. Companies that integrate SDK-generated code do not owe Neya any runtime royalties on their use of this code. We feel that this greatly simplifies the "make-buy" decision for UCS integration, allows for easier integration of our SDK within government programs, and provides an easy to track licensing model that is a win for all parties.
About Neya Systems, LLC
Neya Systems, LLC is a small business unmanned systems company in Wexford, PA. Founded in 2009, Neya focuses on developing interoperable solutions to the world's hardest robotics problems. Neya Systems, LLC, is a 2014 INC 5000 Listee, and in 2015 was named by Fast Company magazine as one of the Top-10 Worldwide Most Innovative Companies in Robotics. For more information, visit http://www.neyasystems.com
Featured Product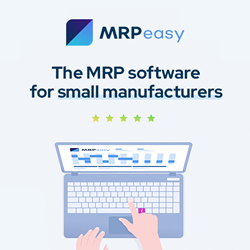 Always know what you have in stock and what you'll need to fulfill orders. Never forget to order parts on time or fail to notice a late delivery from your vendor. Easily create manufacturing orders and schedule them automatically according to resource availability or delivery deadline. Generate accurate cost and lead time estimates and provide customers with quick quotes. Receive notifications when orders are late or inventory levels reach a critical point. Ensure seamless communication between sales, production, warehousing, procurement, administration, and finance. Integrate with popular accounting, CRM, and e-commerce apps. MRPeasy is an ERP software for small manufacturers that gives you all that and more. Our users report a 54% average improvement in the overall performance of their business and a 42% increase in on-time deliveries. Try for free, no credit card needed.