Launched on Kickstarter on Monday 20 April 2015 – Funded in 80 minutes
The groundbreaking Single Board Computer reached its 15k goal on Kickstarter in 80 minutes.

UDOO Neo merges the world of Arduino and Raspberry Pi with wireless connectivity and 9-axis motion sensors, providing a complete and easy solution to free your imagination, make your objects alive and create new smart devices and appliances from scratch.
Campaign Link: bit.ly/UDOONEO
On Monday 20 April 2015 SECO USA Inc. launched UDOO Neo on Kickstarter at 11 oclock in EST time, raising the 15k USD dollar goal in just 80 minutes.
The first to be astonished by the overwhelmingly successful launch are UDOO Team members: "We felt immediatly a great interest for the NEO, but we werent expecting such enthusiast reaction. This confirms that were in the right direction: people are eager to get involved in the Internet of Things computing, and UDOO NEO seems their perfect companion" declares Maurizio Caporali, NEOs product manager.
UDOO Neo is a credit-card size (59.3mm x 85mm - 3.35" x 2.33"), low-cost, low-power consumption, open-source hardware board, able to run Android or Linux and Arduino-compatible. It can be used as a fully-fledged computer, as an Arduino-compatible microcontroller or as an embedded computer to build new devices, smart objects and appliances.
UDOO Neo comes in two versions: UDOO Neo Basic and UDOO Neo.
UDOO Neo Basic has 512MB of RAM, one USB port, one micro USB OTG port, HDMI video output for LVDS and touchscreen, Wi-Fi module, Bluetooth 4.0 module (including Classic Bluetooth and Bluetooth 4.0), analog and digital camera connection, 54 GPIOs and MicroSD card for the operating system.
In addition to all the features of UDOO Neo Basic, UDOO Neo has also a fast ethernet (10/100 Mbps), 9-axis motion sensors embedded, and it has 1GB of RAM instead of 512MB.
UDOO Neo is the result of a joint effort between SECO (http://www.seco.com/en/welcome-seco) and Aidilab (http://aidilab.com/). SECO is a global leader in the B2B embedded market, with 36 years of experience in design and production of electronic embedded solutions. AidiLab is a design studio founded as a startup of the Interaction Design Lab (IDA) of Siena University (http://www.unisi.it/) thanks to passionate efforts of professors and students. It collaborates with SECO in the hardware and software development of UDOO, and manages the communication and the relation with the user base.
"UDOO Neo is a new-generation single board computer, ready for Internet of Things applications thanks to its wireless connectivity and embedded sensors that no other board on the market features right now." says Maurizio Caporali, Product Manager of UDOO Neo.
UDOO needs the funds to keep the price low, this is the reason why it will be launched on Kickstarter. Right now, a $49 pledge is the minimum to get a UDOO Neo Basic and $59 to get a UDOO Neo. SECO aims to ship the boards to customers in September 2015.
Press Kit: http://www.udoo.org/press-and-media
Contact info@udoo.org for further inquiries.
www.udoo.org
Featured Product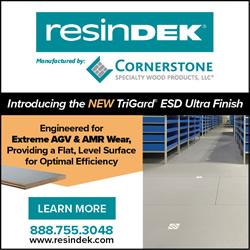 To maximize the productivity of an autonomous mobile robot (AMR) or automatic guided vehicle (AGV) deployment, it's critical to create the optimal environment that allows the vehicles to perform at their peak. For that reason, Cornerstone Specialty Wood Products, LLC® (www.resindek.com) created the TriGard® ESD Ultra finish for its ResinDek® engineered flooring panels. The TriGard ESD Ultra finish is ideal for high-traffic robotic applications characterized by highly repetitive movement patterns and defined travel paths.