COAX is an ejector technology based on a multi-stage concept for creating vacuum with compressed air.
Hingham, MA - Piab introduces a new COAX cartridge that is ideal for applications where there is dust or dirt present. This MINI size cartridge is ideal for Piabs VGS3010 vacuum gripper system, a decentralized vacuum system that features a suction cup and an efficient multi-stage air driven vacuum pump integrated in a single unit, called a "Gripper."

In dusty/dirty environments, such as in packaging where corrugated dust is prevalent, this new COAX Di16-2 dust-proof cartridge performs very well. Usually, in these places, vacuum filters cannot be used due to their propensity to fill up with dust and reduce the overall effectiveness of the vacuum system. The new COAX Di16-2 is a two-stage cartridge without flap valves. Dust and dirt has a free path through the ejector nozzles, eliminating the risk for clogging- even in extreme applications, such as high humidity in combination with dust. The COAX Di16-2 provides vacuum levels down to 70-kPa at a feed pressure of 6 bar.
COAX is an ejector technology based on a multi-stage concept for creating vacuum with compressed air. By integrating the internal components of a multi-stage vacuum pump into a vacuum cartridge, COAX allows for a smaller, more efficient, more reliable and highly flexible technology. This flexibility is particularly helpful for users who plan to design a modular system to address specific application needs.
The majority of Piabs current vacuum pumps feature COAX technology and are compact, simple to install and generate minimal noise.
About Piab
Established in 1951, Piab designs innovative vacuum solutions that improve the energy-efficiency, productivity, and working environments of vacuum users around the world. As a reliable partner to many of the worlds largest manufacturers, Piab develops and manufactures a complete line of vacuum pumps, vacuum accessories, vacuum conveyors and suction cups for a variety of automated material handling and factory automation processes. Piab utilizes COAX, a completely new dimension in vacuum technology, in many of its original products and solutions. COAX cartridges are smaller, more energy efficient and more reliable than conventional ejectors, and can be integrated directly into machinery. This allows for the design of a flexible, modular vacuum system. Piab is a worldwide organization with subsidiaries and distributors in almost 70 countries. Its headquarters are in Sweden. For more information about Piab vacuum solutions for a diverse range of applications, visit www.piab.com.
Featured Product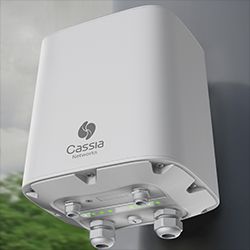 Cassia works with smart IIoT equipment manufacturers to help them overcome their challenges and to provide the competitive edge they need to reach their business goals. We provide companies in various IIoT sectors with a comprehensive suite of enterprise Bluetooth IoT products and solutions they need to enable smart IIoT solutions such as Condition Monitoring, Predictive Maintenance as well as Personnel and Asset Tracking solutions. Cassia's long-range Bluetooth gateways are uniquely designed for today's Industrial IoT enterprises to provide the scalability, flexibility and ease of deployment needed to reduce costs and achieve greater ROI.