With a large work envelope, high payload and compact footprint, Pearson's DTL-2X is ideally-suited for facilities with limited space.
Spokane, Washington March 12, 2015

Pearson Packaging Systems, manufacturer and integration specialist of secondary packaging automation equipment, is proud to announce the expansion of its portfolio of robotic case and carton loaders with the release of its DTL-2X, a two-axis delta top loader.
Comparable to a gantry loading mechanism in terms of function and cost, the 2-axis delta robot is smaller, potentially faster and easier to maintain. Unlike the gantry, which requires overhead clearance to accommodate the vertically-moving gantry Z axis mechanism, the 2-axis delta is well-suited for placement under mezzanines or in facilities with height limitations. In addition, PLC based kinematics motion control and minimal use of mechanical parts reduces maintenance requirements and costs for improved uptime and availability.
Ideal for pick and place top loading applications, the DTL-2X offers high-speed, precision placement of up to 40 cycles per minute for a wide range of product types and case styles. Cartons, rigid, and flexible products can be loaded in horizontal or vertical pack patterns into regular or half slotted containers (RSCs or HSCs), bliss boxes, cartons or trays, making the DTL-2X an excellent solution for retail-ready packaging requirements.
Pearsons comprehensive set of fully customizable case and carton loading capabilities includes articulated arm robots, two and three-axis delta robots, Cartesian robots and drop pack technology to provide the most suitable solution for any top-loaded application.
For additional information on Pearsons DTL-2X, please visit our website at http://bit.ly/1wWSwSq or contact us at (509) 838-6226 or toll-free at (800) 732-7766. You can also view our DTL-2X video here: http://bit.ly/1b21R15
About Pearson Packaging Systems: Pearson Packaging Systems specializes in the design, production, integration and service of secondary packaging automation solutions. As a systems provider, Pearson offers a full line of customizable machinery to erect, pack, seal, and palletize top-loaded cartons, cases and trays.
Focused on minimizing total cost of ownership, Pearson Packaging Systems is dedicated to a solution-driven partnership. For over sixty years, a diverse set of high-volume manufacturers and distributors has relied on our engineered systems and continuous service support.
Featured Product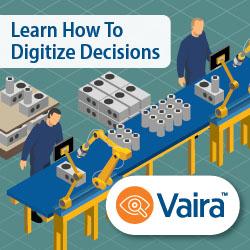 Pleora's Visual Inspection System helps operators detect errors and defects for unique component types, assembly steps, and custom low-run products where automated optical inspection (AOI) is too complex and expensive. The system helps DICA Electronics: Avoid costly, errors as a result of detecting errors at different phases in production, Speed time in detecting the root cause of the in-field errors with Tracking & Reporting apps for traceability, Maintain consistency in training new employees on requirements or with staff any time a new product is added, Easily train the system using 'good product' images for multiple product lines with no programming skills required, Reduce subjective decision-making, especially over a long shift, reducing error-escapes.