Nachi-Fujikoshi launched the MZ07 compact robot back in 2013 and has been cultivating the world's compact robot markets via our distributor's network such as original tools, bearings, hydraulic fluids and other own-brand products and robot integrators. Eager in 2015, we are currently launching the "MZ04" as the World's fastest and lightest compact robot and the "MZ04E" as a safe robot, with targets set on the 3-4 kg payload capacity segment of the compact robot market. By greatly improving ease of use, we are lowering the automation threshold so that businesses that have never used robots before can accelerate their introduction
The new MZ Series robot arms feature ultra high-speed motion capability with advanced through-arm dress capabilities to simplify routing of hoses and cables for material handling, assembly, vision and many other applications. Boasting an IP67 rating, MZ Series robots are the fastest in class in standardized speed testing, leading all competitors' robots. Flexible mounting solutions allow MZ Series to be floor, wall, or invert mounted to better suit customers' needs for any given application. As the newest addition to Nachi's comprehensive robot lineup, MZ Series robots build on the great heritage of large payload robots by providing an extremely versatile small robot with top of the line capabilities. The MZ03EL incorporates the same great features as other MZ Series robot with added reach up to 1.1 meter horizontal reach for larger work areas.

MZ04E robots use "Safe Robot" technology and use motors rated at no more than 80w on each of its axes. It can be used without safety fences* and operators can work adjacent to the robot. (* Risk assessment required) In addition to the MZ04E Safe Robot, the MZ04 robots incorporate optional direct teaching technology that allows operators to physically move the arm to teach the required operations. This hands-on operation with the robot simplifies and greatly shortens the teaching process. The MZ04 robot has a footprint equal to an A5 sheet of paper and weighs less than 62 lbs, designed to be extremely compact with minimal installation space, unconventional layout options include; ceiling mount, wall-mounting, and tilted postures.
In addition to the industry leading innovative features offered by MZ Series robot arms, controller size has been significantly reduced with the introduction of the new Nachi Compact-FD (CFD) Controller. Based on its industry proven full size brother the FD11 controller, the PC sized CFD Controller features 200-230v (single phase or 3 phase), IP20 protection level and a new miniature teach pendent (miniTP). In addition to the ergonomic size offered by the CFD controller, system backups can now be created directly to USB media devices ensuring your production programs will never be compromised. The Nachi Smart Teach Pendent (SmartTP) is also available providing full color graphical touch screen robot control functionality for ultimate ease of use. Also available on MZ Series robots is a 120v control package expanding the application range even further. MZ Series robots can be installed anywhere you can plug into the wall making it an ideal solution for universities, training facilities, R&D laboratories, or anyone without access to commercial power. Application possibilities are endless and applied seamlessly with advanced Nachi Software Packages including palletizing, force sensing, vision sensing, line tracking conveyor synchronization, material handling, and many more.
Featured Product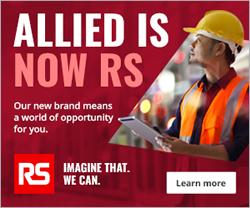 Imagine a global, end-to-end partner for industry - dedicated to solving your problems so you can drive your business forward. We can. On February 6, 2023, we officially changed our name to RS. It's just one way we're evolving to make our partnership and doing business with us even more rewarding. As RS, you have access to more support, more expertise, and more possibilities for your big and small projects - from concept and design to build and maintenance. Going forward, you'll see the RS logo on our website, social media, communications, and packaging. And rest assured, our current systems and procedures will remain intact to seamlessly process your order.