South Carolina startup has recently developed a frameless multi-rotor uni-body that can be adapted to all types of 3D shapes. UAS Directions new patent pending designs will reshape the face of drones forever.
Beaufort, SC March 04, 2015

UAS Directions is a startup bent on thinking from unexpected directions. Over the past 16 months they have pored their unique design philosophy into developing their 3D multi-rotor uni-bodies. They believe the launch of their first "frameless" concept will put an end to framed multi-rotors, or as they label them, 'model -T-rotors'. "Flight systems are evolving fast, but everyone's following everyone else with the same basic frame layout. No one seems to be addressing the limitations and inherent safety flaws in their shape and exposed propellers. What if a drone could take on any 3D shape? Our patent pending innovation is like driving a new BMW to Henry Fords unveiling of the Model T in 1908", says Aaron Weller, Founder of UAS Directions.
"If we hope to gain acceptance of a safety conscious public, we have to address these safety issues. Our first uni-body platform, the Droplet V1, will change our industry permanently. The Droplet design speaks from the psychological vantage point of people who will come into close contact with drones. No one wants a "spider looking" blender on steroids delivering their future Amazon or DHL package or photographing over their heads at an event. I don't...and I'm an unmanned aerial pilot of 27 years", exclaims Weller.
Weller expects waves of public outcry to increase over the safety of popular airframes such as the DJI Phantom and Vision. Multi-rotor propeller tips can travel at hundreds or miles per hour and are made of plastic or carbon fiber. Recent news stories have included a Florida woman being struck and lacerated at a flea market (WESH Orlando, Nov. 17, 2014) and a TGI Friday's patron getting the tip of her nose cut off by a quadcopter during a Christmas promotion. (Fox News, Dec. 10, 2014) "We want to protect that curious child from getting their fingers chopped off or territorial birds of prey from being maimed by exposed propeller blades", says Weller. "I believe if you can't wrap your hands around a multi-rotor drone under full power, then it just isn't practical."
The Droplet's internal cargo bay can hold deliverable packages, cameras and sensor equipment. Due to the fact that it's propellers will not entangled in stringy debris or be disabled by incidental contact from any angle, the Droplet opens the imagination for indoor and confined space uses that may not be subject to FAA regulations. Other features include: significantly muffled sound signature, total encapsulation of internal electronics and impact absorption in event of an accident.
UAS Directions says this technology can be applied to wearable designs for outdoor sportsmen and public safety officials. Future designs will also include automotive integration, custom flying corporate brands and airframes designed to dock with your smartphone. "Skies the limit when you have a airframe that can be safely caught with bare hands", states Weller. "This technology can be applied to just about any 3D shape or product imaginable. It puts companies and industries in the game that have held back from drone integration due to insurance and liability issues."
UAS Directions is focused on sharing its scalable and flexible technology with companies already developing their own drone programs. "We will be strategically partnering with companies who want to invest in a marriage of their own proprietary systems with the future of unibody platforms. The goal is to make developers platforms safer and more appealing to the public", explains Weller.
For more information visit: uasdirections.com
Featured Product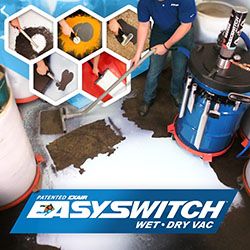 EasySwitch Wet-Dry Vacuum simplifies the filter change process when switching from vacuuming a dry material to a liquid or vice versa. The EasySwitch is a powerful pneumatic vacuum that is ideal for any application - wet, dry, light and heavy. https://exair.co/184_5175 Learn more about our special on our vacuums at https://exair.co/184-vacpromo