- The World's First Robotic Greens Mower For Golf Courses
CLEVELAND, Feb. 9, 2015 Improved greens surfaces for golf course superintendents and better putting games for golfers are now teed up with Cub Cadet's official launch of the RG3 - the world's first robotic greens mower for golf courses.

Officially to be unveiled at the Golf Industry Show in San Antonio Feb. 25-26, this revolutionary product signifies Cub Cadet's entry into the golf market as it provides the industry with innovation that delivers on both higher productivity and increased quality.
By using a proprietary positioning technology better than GPS, the RG3 with Precise Path Technology moves precisely and safely across the green. It travels in straight lines and along the perimeter without the need for an operator, delivering consistent and repeatable cuts every time, so every green is mowed exactly the same way. The advanced robotic technology allows for mowing and rolling in a single pass with consistent overlap. The result is an unparalleled green-to-green consistency that provides an overall better short game for many golfers.
With its autonomous operation, Cub Cadet's RG3 enables golf course superintendents to reallocate manpower to other important areas of the course during the critical morning hours to provide superior overall upkeep. Customer experience has proven the RG3 provides at least a 50 percent increase in labor productivity, allowing superintendents to achieve higher quality with less manpower.
John Shaw, Certified Golf Course Superintendent at Valley Brook Country Club in McMurray, Pa., placed two RG3 units into daily service in July 2014 to evaluate the RG3's performance against their existing operations.
"The RG3's impact to our putting greens has exceeded my expectations," he said. "We are achieving higher clipping yield, more consistent green speeds and smoother putting surfaces with less manpower. It's a win-win scenario."
Shaw also referenced manpower re-allocation resulted in more attention to other detail tasks such as bunker edging, and that members were more excited because of improved scores.
After a fleet of RG3s were implemented at the Bayou Club in Largo, Fla., more than 90 percent of members surveyed indicated a noticeable improvement in the consistency of ball roll on the greens.
Cub Cadet is integrating the technology of Precise Path Robotics, an Indianapolis-based company that first brought the RG3 to market in 2009. Now, under the Cub Cadet brand, the RG3 is among many other Cub Cadet products that provide improved productivity and quality to the golf industry. For example, the Cub Cadet Tank SZ Series professional zero turn riding mowers includes the patented Synchro Steer feature -- a technology first pioneered by Cub Cadet -- to provide unsurpassed hillside tracking and control over any terrain. Synchro Steer provides the grounds professional a whole new level of stability, precision and ease of use on virtually any golf course terrain. Cub Cadet also offers True Edge, a technology enabled product which ensures the greens shape does not change over time.
"Cub Cadet is bringing purposeful innovation to the golf course," said Jeff Everett, Director of Golf Products at Cub Cadet. "Consistent quality and maximum productivity are two of the most important factors for golf course superintendents and our products deliver on both. Cub Cadet is proud to help golf superintendents improve their courses and golfers to improve their game."
Editor's note: Photos of the Cub Cadet RG3 will be available Feb. 25 when it is officially unveiled at the Golf Industry Show.
About Cub Cadet
For more than half a century, Cub Cadet lawn and garden tractors have been proudly built in America. Established in 1961, Cub Cadet engineers continue to design and build outdoor power equipment using the highest quality components sourced locally and globally. Through a dedicated and extensive network of dealers and retailers, Cub Cadet delivers a full line of high performance power equipment and services that cover all aspects of grounds care for professional and homeowners - including four-wheel steer zero-turn riders; lap bar zero-turn riders; utility vehicles; lawn and garden tractors, lithium ion- and gasoline-powered handheld and chore products; snow throwers and more. Based in Valley City, Ohio, Cub Cadet is recognized worldwide for its legacy in engineering excellence and its progressive dedication to exceeding owner expectations by delivering on its promise of better products, a better experience and better results. For more information on all Cub Cadet products, visit www.CubCadet.com.
Featured Product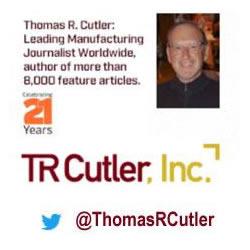 Cutler has authored more than 8000 articles for a wide range of manufacturing periodicals, industrial publications, and business journals including most of the leading monthly trade publications.