New eMMC card, SATA Express and PCIe products as well as vertical market solutions will be displayed and demoed at annual embedded system trade fair
Taipei, Taiwan - Innodisk, the service-driven storage provider, will be previewing a host of new flash storage products at Embedded World 2015 suitable for embedded systems and industrial applications as well as showcasing its existing line up of reliable and high performance industrial flash. Innodisk will preview a convenient new eMMC Card form factor, a new flash Disk-On-Module form factor SATA-Express DOM, as well as showcase a portfolio of new PCIe Flash solutions for embedded and industrial applications.

eMMC Card
eMMC is the standard type of flash used in portable devices but the BGA form factor brings with it limitations. With the card design compatible with SD slot, there will be no more BGA soldering quality issue. Besides that, eMMC card will bring flexibility in laying out the components, streamline configuration changes, and lower reworking costs . Innodisk's eMMC Card comes in 8GB to 64GB and provides the industrial reliability and features of embedded eMMC flash in a convenient card format to speed up embedded development.
SATA Express DOM
Innodisk brings in the next generation of SATADOM with SATA Express DOM. The same full-featured flash storage in a space-saving format now comes with a SATA Express interface. With two on-board nanoSSD storage components, SATA Express DOM supports Intel Rapid Storage Technology(RST) so users can configure it for high performance or enterprise level data redundancy with RAID.
PCIe Flash
Innodisk will introduce the next generation of industrial flash with the high performance and high capacity 2.5" PCIe SSD 2MG2-P boasting 740/670 MB/s sequential read/write, the compact M.2(P80) 2ME SSD offering 500/240MB/s sequential read/write in capacities up to 512GB and PCIeDOM - a space saving PCIe Disk-On-Module that fits directly on the PCIe connector.
Vertical Market
Innodisk will display its Vertical Market industrial solutions at Embedded World, including Casino Gaming storage products featuring write protection, storage partitioning and customization.
In-Vehicle Products will also be displayed. Innodisks' In-vehicle solution SSDs and DRAM feature E-mark certification for EMI compatibility, iDataGuard/iCell power protection for data integrity, and strong rugged design to stand up to harsh in vehicle environments.
Aerospace and Defense products will also be showcased, featuring advanced data security with SEraser, QEraser and Destory functionality. Advanced power protection, thermal sensors, and Military grade compliance distinguish Innodisk's products for Aerospace and Defense.
Embedded Peripheral Modules
Innodisk moves beyond storage with its Embedded Peripheral line of expansion and signal conversion modules for embedded systems. These compact peripherals plug into embedded and industrial PCs through mPCIe, PCIe, M.2, SATA, or DDR3 connectors and offer expanded graphical signal, data interfaces such as SATA/M.2 ports, Gigabit Ethernet, RS232/422/482 signal functionality, and more.
You are kindly invited to visit us at:
Embedded World 2015
Date: February 24-26, 2015
Booth Number: Hall 1, Stand 1-128
Venue: Nuremburg, Germany
About Innodisk
Innodisk is a service driven provider of flash memory and DRAM products for the industrial and enterprise applications. With satisfied customers across the embedded, aerospace and defense, cloud storage markets and more, we have set ourselves apart with a commitment to dependable products and unparalleled service. This has resulted in products including embedded peripherals designed to supplement existing industrial solutions and high IOPS flash arrays for industrial and enterprise applications. The expanded business lines are leading our next step in being a comprehensive solution and service provider in industrial storage industry.
Founded in 2005 and headquartered in Taipei, Taiwan with engineering support and sales teams in China, Europe, Japan, and the United States, Innodisk is able to support clients globally. With abundant experience and an unrivaled knowledge of the memory industry, Innodisk develops products with excellent quality, remarkable performance, great cost-efficiency, and the highest reliability. For more information about Innodisk, please visit http://www.innodisk.com.
Featured Product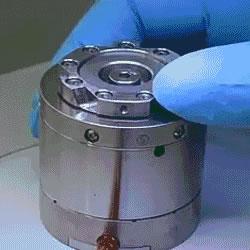 A traditional gantry system employs X-Y or X-Y-Z range of motion. Mounted on a base plate, usually granite, 2 parallel rails constitute the synchronized Y axis motion while the cross axis (bridge axis) provides the X motion. A vertical axis can be added on the bridge for the Z motion. A Split Bridge system can be less complex than a traditional gantry system because synchronization of the two parallel linear motors is not required. Both systems are used in industrial production, testing, and additive manufacturing.