The new ES-Bore series mounts to custom designed boring tools
Allied Machine and Engineering, a leading manufacturer of holemaking and finishing cutting tools for the metal-cutting industry, announces a new series of Wohlhaupter fine boring lay down cartridges—ES-Bore (Easy Set Bore), and inventory will be available October 16th. These lay down cartridges can easily be mounted onto the body of a custom tool while the dimensions allow the cartridge to fit on existing bodies and replace current lay down cartridges in addition to providing 3ETECH+ functionality.

When used with standard Wohlhaupter components, the lay down cartridges have a diameter range of 1.1 inches - 128 inches (28 millimeters - 3200 millimeters); however, a maximum boring range cannot be defined for custom boring tools as the range is unlimited and depends on the application. Currently, the cartridges are available for two different insert sizes—the ISO form 101 as well as Wohlhaupter's form 20 insert—and can be used in all common materials.
For customers looking to build their own custom tool, the ES-Bore is offered in an analog or digital version for use with the new 3ETECH+ digital readout module. The new 3ETECH+ digital module provides enhancements such as improved visibility with a larger OLED display screen, improved diameter adjustment accuracy of one micron and a rechargeable battery via USB-C.
The release of the new cartridges provides the possibility to design custom tools incorporating the ES-Bore lay down cartridges, allowing customers to receive special tools within a shorter delivery time and at a lower cost. Additionally, the release of the new fine boring cartridges gives customers the opportunity to build their own special tool because the customer only needs an ES-Bore lay down cartridge that can be mounted onto the boring bar being manufactured.
"Lay down cartridges and fine boring—do those go together? Yes and ES-Bore offers exactly that. Simple settings combined with Wohlhaupter's well-known precision for fine adjustment of our tools," shared Axel Wagner, business development manager at Wohlhaupter.
Featured Product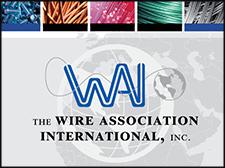 The Wire Association International (WAI), Inc., founded in 1930, is a worldwide technical society for wire and cable industry professionals. Based in Madison, Connecticut, USA, WAI collects and shares technical, manufacturing, and general business information to the ferrous, nonferrous, electrical, fiber optic, and fastener segments of the wire and cable industry. WAI hosts trade expositions, technical conferences, and educational programs.