The new iQ-R Series System Recorder Module helps customers troubleshoot difficult or inconsistent machine errors to reduce downtime, maintenance costs, and the need to be on-site with the machine.
Mitsubishi Electric Automation, Inc. announces the new iQ-R Series System Recorder Module that efficiently assists programmers in determining a machine's malfunction root cause by recording all program and mechanical state changes before and after an event or error takes place.

As any programmer knows, the most difficult errors to troubleshoot are those that are non-repeatable and/or occur at seemingly random times. Traditionally, these issues were resolved by a programmer creating program "traps" that capture key process information at the time of the error and hoping it gave them enough information to track down the root cause.
Mitsubishi Electric Automation, Inc.'s system recorder eliminates the ambiguity in diagnosing issues by recording all changes in their programming code for several minutes before and after an event takes place. Users can review the changes that took place in their code leading up to and after the event. In addition, the system recorder allows users to record the data visually, in video format, directly to the module to note environmental conditions that the code cannot see. Users can save significant time and money with the iQ-R Series System Recorder Module by being able to resolve machine errors with a wholistic view of the event in both recorded code and visual play-back.
"Every so often we used to run into certain errors we called ghost issues. Maybe 1 in 30 customers would experience an issue, but narrowing down the root cause was difficult. It wasn't uncommon for us to travel to the customer site and dedicate multiple days to hunting down exactly what took place to cause the issue. If I had access to a solution like this, it would have been a game changer. I could send this module to the machine site, and it would trigger/save every state change of my ladder logic before and after an event took place. This would allow me to remotely investigate/track-down what happened to cause the unexpected behavior and allow me to make the error easily repeatable so that I could improve my code to address the issue moving forward.", said Rob Ruber, senior product manager at Mitsubishi Electric Automation.
For more information and product specifications regarding the iQ-R Series System Recorder Module, visit
https://us.mitsubishielectric.com/fa/en/support/technical-support/knowledge-base/getdocument/?docid=3E26SJWH3ZZR-38-1900
About Mitsubishi Electric Automation, Inc. Headquartered in Vernon Hills, Ill., Mitsubishi Electric Automation, Inc. is a U.S. affiliate company of Mitsubishi Electric Corporation. It offers a broad product portfolio including programmable automation controllers (PAC), programmable logic controllers (PLC), human machine interfaces (HMI), variable frequency drives (VFD), servo amplifiers and motors, control software, computerized numerical controllers (CNC), motion controllers, robots, low-voltage power distribution products, and industrial sewing machines for the industrial and commercial sectors. Additional information about Mitsubishi Electric Automation is available at us.MitsubishiElectric.com/fa/en. About Mitsubishi Electric Corporation With more than 100 years of experience in providing reliable, high-quality products, Mitsubishi Electric Corporation (TOKYO: 6503) is a recognized world leader in the manufacture, marketing and sales of electrical and electronic equipment used in information processing and communications, space development and satellite communications, consumer electronics, industrial technology, energy, transportation and building equipment. Mitsubishi Electric enriches society with technology in the spirit of its "Changes for the Better." The company recorded a revenue of 4,476.7 billion yen (U.S.$ 36.7 billion*) in the fiscal year ended March 31, 2022. For more information, please visit www.MitsubishiElectric.com *U.S. dollar amounts are translated from yen at the rate of ¥122=U.S.$1, the approximate rate on the Tokyo Foreign Exchange Market on March 31, 2022. About Mitsubishi Electric Factory Automation Business Group Offering a vast range of automation and processing technologies, including controllers, drive products, power distribution and control products, electrical discharge machines, electron beam machines, laser processing machines, computerized numerical controllers, and industrial robots, Mitsubishi Electric helps bring higher productivity - and quality - to the factory floor. In addition, our extensive networks around the globe provide direct communication and comprehensive support to customers. About e-F@ctory e-F@ctory is Mitsubishi Electric's integrated concept to build reliable and flexible manufacturing systems that enable users to achieve many of their high speed, information driven manufacturing aspirations. Through its partner solution activity, the e-F@ctory Alliance, and its work with open network associations such as The CC-Link Partners Association (CLPA), users can build comprehensive solutions based on a wide ranging "best in class" principle. In summary, e-F@ctory and the e-F@ctory Alliance enable customers to achieve integrated manufacturing but still retain the ability to choose the most optimal suppliers and solutions. *e-F@ctory, iQ Platform are trademarks of Mitsubishi Electric Corporation in Japan and other countries. *Other names and brands may be claimed as the property of others. *All other trademarks are acknowledged
Featured Product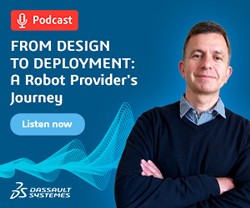 Let's listen to Arvind Krishnan, industry analyst at Lifecycle Insights and Michael Mayr, Industrial Equipment Sales Strategy Expert at Dassault Systèmes. They will discuss the robot industry and how startups can succeed in this market.