This agreement provides 3D Systems' customers access to high-quality metal powder for use with its DMP solutions
6K Additive announced today that they have entered into an agreement with 3D Systems to become their preferred supplier of tungsten powder for their DMP metal 3D printing solutions. 6K Additive, a division of 6K, a leader in the sustainable production of engineered materials for additive manufacturing and lithium-ion batteries can produce refractory metal powders using their innovative UniMelt microwave plasma process.

Frank Roberts, president of 6K Additive commented, "3D Systems has a proven, high-quality solution with their line of DMP printers. This agreement provides their customers with a high-quality material that will meet the demanding requirements for tungsten powder where high temperature and high strength properties are needed in applications such as medical, defense, hypersonic and other rocket parts."
Last year 6K Additive announced the ability to produce a full range of refractory materials that have historically not been available in production because of the difficulty to process these materials into powder simply due to their high melting temperatures. The uniqueness and control of 6K's UniMelt® microwave plasma process, combined with the deep knowledge and expertise of 6K Additive's team, allows the company to manufacture production scale volumes for many of the refractory powders like tungsten and other refractory materials such as rhenium, tantalum, niobium and molybdenum.
6K Additive is the world's first producer of AM powder made from sustainable sources and offers a full suite of premium powder including nickel, titanium, copper, stainless steel, aluminum alloys and refractory metals such as tungsten and rhenium. The proprietary UniMelt system is the world's only microwave production-scale plasma system, with a highly uniform and precise plasma zone with zero contamination and high throughput production capabilities. The UniMelt process produces powders that are truly spherical, void of porosity and satellites with better flowability than other processes. Companies interested in working with 6K Additive regarding their specific powder requirements are urged to visit 6K Additive's website 6KAdditive.com
About 6K
With sustainability at its core, 6K has developed UniMelt®, a proprietary advanced microwave plasma production system, to transform engineered materials into revolutionary products that advance industries across additive manufacturing, renewable energy, aerospace, consumer electronics, and more. 6K represents 6000 degrees, both the temperature of the operation of UniMelt®, the world's only microwave production scale plasma system, and the temperature of the sun's surface. 6K was founded in North Andover, Massachusetts.
The 6K Energy division is focused on the production of low-cost, sustainable, and domestically produced battery material accelerating the pace of battery production and adoption of electric vehicles. The 6K Additive division specializes in sustainably sourced, AM metal powders production and reclamation, using a proprietary milling and cleaning process that ensures contamination-free, high-quality powders. For more information, visit www.6Kinc.com and follow @6KInc on Twitter.
Featured Product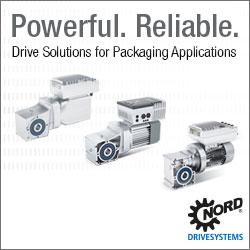 NORD's redesigned line of small CLINCHER parallel gear units showcase increased power and torque capacity for a variety of applications. These re-engineered versions will be replacing the existing SK0182NB, 0282NB, and 1382NB units. They are lightweight, have improved heat dissipation, are more cost-effective, and are available with NORD nsd tupHTM sealed surface conversion for wash-down and extreme environments.