Gear Up for this Year's Most Exciting Week in Packaging
Herndon, Va.; Oct. 30, 2020 - The new PACK EXPO Connects (Nov. 9-13), produced by PMMI Media Group, offers an exciting forum to investigate the latest packaging and processing technology and solutions. From new products to live product demos and chats to engaging educational opportunities (and everything in between), it's all at PACK EXPO Connects.

With more than 700 exhibitors, nearly 2,700 live demos and 60+ educational sessions available, it is important for attendees to plan in advance, so PMMI Media Group is launching Preview Week (Nov. 2-6). The week will kick-off with a webinar, Helpful Hints for Navigating PACK EXPO Connects, on Nov. 2, at 10 a.m. CT. It will provide tips and tricks for using the platform and even offer Q&A with attendees to help them make the most out of their PACK EXPO Connects experience.
In addition to the webinar, the Attendee Resource Center is an excellent tool for organizing before the event, complete with video tutorials on searching and adding live demos, using live chat and more.
Registration is synonymous with creating a MyConnects Planner. To get started, click the "Register Now" option at packexpoconnects.com for complimentary registration. After registering, attendees can start building their MyConnects Planner, fully loaded with Outlook calendar integration, ensuring the most effective use of time during event days. Clicking the plus sign (+) next to any item or event of interest easily adds it to your MyConnects Planner.
Attendees can add educational sessions and live demos of interest to their calendars and even schedule live chats in advance. With so much to see over five days, attendees want to organize their time, and Preview Week (Nov. 2-6) is the perfect opportunity to finalize their plan.
All attendees who attend five or more Live Product Demos during PACK EXPO Connects will receive an entry into a daily drawing for a $100 gift card. Another reason to take advantage of Preview Week is to finalize plans, get demos on the calendar and find solutions and engage with industry colleagues.
For more information and free registration, visit packexpoconnects.com.
About PMMI
PMMI, The Association for Packaging and Processing Technologies, represents more than 900 North American manufacturers and suppliers of equipment, components and materials as well as providers of related equipment and services to the packaging and processing industry. We work to advance a variety of industries by connecting consumer goods companies with manufacturing solutions through the world-class PACK EXPO portfolio of trade shows, leading trade media and a wide range of resources to empower our members. The PACK EXPO trade shows unite the world of packaging and processing to advance the industries they serve: PACK EXPO International, PACK EXPO Las Vegas, Healthcare Packaging EXPO, PACK EXPO East, EXPO PACK México and EXPO PACK Guadalajara. PMMI Media Group connects manufacturers to the latest solutions, trends and innovations in packaging and processing year-round through brands including Packaging World, Automation World, Healthcare Packaging, Contract Packaging, ProFood World, Mundo PMMI and OEM. In 2020, PMMI Media Group will produce PACK EXPO Connects, a digital event connecting CPGs and top packaging suppliers. PMMI Business Drivers assist members in pursuing operational excellence through workforce development initiatives, deliver actionable business intelligence on economic, market and industry trends to support members' growth strategies and actively connect the supply chain throughout the year.
Learn more at pmmi.org and packexpo.com and pmmimediagroup.com.
Featured Product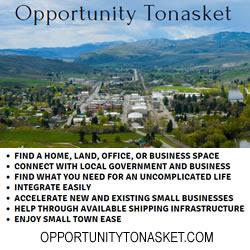 Our primary mission is to promote economic development and growth in the city of Tonasket, WA and surrounding area. This is a group of local citizens sharing a common goal. We wish to assist and promote existing businesses wishing to relocate, local businesses wishing to expand and local individuals wanting to startup a business. Preserving and enhancing the small town and rural lifestyle in a way which benefits everybody and maintains a healthy lifestyle. Opportunity Tonasket was created to be a hub for information and contacts with local city and county agencies, as well as local businesses and real estate connections. Their goal is to connect current and newly relocated individuals and businesses and "plug them in" with the best services, advice and experts in the area. Opportunity Tonasket is like a leg-up, as if one's already had a foothold in the community.