Manufacturing Leadership Awards Program Honors 2020 Top Industry Innovators
Blairsville, Pa. — August 13, 2020. The National Center for Defense Manufacturing and Machining (NCDMM) proudly announces it was named a winner of multiple Manufacturing Leadership Awards for its outstanding manufacturing achievements by the National Association of Manufacturers. The NCDMM was recognized for three of its programs:

• AMNOW: As a new, ongoing multi-phase program to support additive manufacturing (AM) technology insertion into the existing U.S. Army supply chain, AMNOW will enable significant strategic and tactical advantages and help increase the U.S. Army's readiness and facilitate on-demand production of materials in support of warfighters and commanders on the battlefield.
• Advanced Automation for Agile Aerospace Applications (A5): The goal of the A5 program was to create a foundational open-source software framework for adaptive robotic solutions in aerospace manufacturing and sustainment. The A5 program successfully enabled a departure from traditional automation solutions that are tied directly to a specific component or aircraft and implemented a future state in which automation solutions adapt to part variations by using models that are combined with real-time sensor data to drive the automation process.
• On-tool Inspection of Automated Composite Material Placement: This program was able to automate an intensive manual inspection process of a composite structure fabrication method called automated fiber placement (AFP) that is widely used by both military and commercial aerospace programs with great accuracy. The development of an on-tool inspection system achieved an impressive defect detection rate of up to 99.7% in real-time of aircraft components produced by AFP and improved overall high-speed AFP operations.
"It is an incredible honor for the NCDMM to be selected as the winner of not one, but three Manufacturing Leadership Awards from a highly competitive pool of nominees," said Dean L. Bartles, Ph.D., FSME, FASME, NCDMM President and CEO. "Our team strives to continually innovate, improve, and advance manufacturing technologies and methodologies. These winning programs are three distinct examples of the innovative manufacturing solutions we provide our customers. On behalf of all of us at NCDMM, we thank the National Association of Manufacturers for recognizing our contributions to the manufacturing industry."
NCDMM is slated to be officially recognized at the virtual Manufacturing Leadership Award Gala on October 8. The Gala is a prelude to Rethink: The Manufacturing Leadership Council Summit, which will be held virtually October 27-29. Rethink brings together manufacturing operations leaders for next-level networking and information exchange in three categories: thought leadership, organizational strategy, and technology implementation best practices.
The Manufacturing Leadership Council developed the Manufacturing Leadership Awards to honor manufacturing companies and leaders that are shaping the future of global manufacturing. Founded in 2004, the Manufacturing Leadership Awards have honored hundreds of innovative manufacturing companies from around the world.
The Manufacturing Leadership Awards consist of 12 categories that align with the Manufacturing Leadership Council's member-driven Critical Issues Agenda. Nine of the categories are for companies that undertake successful, high-impact projects. Three categories are for individuals whose achievements advance their companies or the manufacturing industry.
For more information about NCDMM, visit ncdmm.org.
###
About NCDMM
NCDMM delivers innovative and collaborative manufacturing solutions that enhance our nation's workforce and economic competitiveness. NCDMM has extensive knowledge and depth in manufacturing areas—both commercial and defense—to continually innovate, improve, and advance manufacturing technologies and methodologies. Our experienced team specializes in identifying the needs, the players, the technologies, and processes to attain optimal solutions for our customers. We connect the dots. That's the NCDMM methodology. NCDMM also manages the national accelerator for additive manufacturing (AM) and 3D printing (3DP), America Makes—the National Additive Manufacturing Innovation Institute. For additional information, visit the NCDMM at ncdmm.org and follow @NCDMMnews on Twitter.
About the Manufacturing Leadership Awards
The Manufacturing Leadership Awards honor manufacturing companies and individual manufacturing leaders that are shaping the future of global manufacturing. Winning projects and individual manufacturing leaders have demonstrated achievement in one of a wide range of categories, and are chosen by a panel of expert judges for results that have delivered clear and compelling value, return on investment, and other tangible outcomes. There will be several winners in each category, including one High Achiever's Award in each category, as well as a 2020 Manufacturer of the Year for both small and large enterprises. Also unveiled at the gala will be the ML Awards Manufacturing Leader of the Year and Lifetime Achievement Award winners. For more information on the Manufacturing Leadership Awards Gala or Rethink: The Manufacturing Leadership Council Summit, please go to www.MLCRethink.com.
Manufacturing Leadership Council
A division of the National Association of Manufacturers, the Manufacturing Leadership Council is the nation's recognized leader in Manufacturing 4.0 insights, which cover topics such as artificial intelligence, predictive maintenance, augmented and virtual reality, robotics, additive manufacturing, current workforce digital readiness and cybersecurity. The MLC provides its membership with content via webinars, the bimonthly Manufacturing Leadership Journal, exclusive survey research on its member-driven critical issues, an annual 3-day conference, the Manufacturing Leadership Awards and in-depth factory tours. For more information, visit https://www.manufacturingleadershipcouncil.com.
About the National Association of Manufacturers
The National Association of Manufacturers (NAM) is the largest manufacturing association in the United States, representing small and large manufacturers in every industrial sector and in all 50 states. Manufacturing employs more than 12 million men and women, contributes $2.25 trillion to the U.S. economy annually, possesses the largest economic impact of any major sector, and accounts for more than 75% of all private-sector research and development in the nation. The NAM is the powerful voice of the manufacturing community and the leading advocate for a policy agenda that helps manufacturers compete in the global economy and create jobs across the United States. For more information about the National Association of Manufacturers, visit www.nam.org.
Featured Product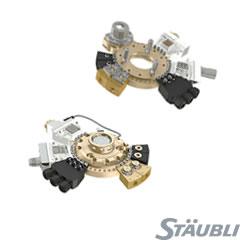 Stäubli is a pioneer in the construction and development of robotic tool changing systems. Our customers benefit from our many years of expertise in all industry sectors, as well as our modular product concept, which offers three efficient solution paths: MPS COMPLETE offers preconfigured robotic tool changers for immediate use. MPS MODULAR allows the user to determine the configuration, while MPS CUSTOMIZED allows the construction of special, application-specific systems.